Gavin Newsom proves
Shakespeare's quote that one
can smile and smile
and be a villain tyrant!
I'm not particularly afraid of the coronavirus despite the fact that I'm high risk. I'll be 73 next week, I have an autoimmune disease, and I'm blood type A which has been shown to be more susceptible to the virus.
My husband and I are exercising prudence with frequent hand washing, cleaning surfaces, avoiding unnecessary exposure to large groups, etc. But panic is not an option. What good does that do? Good grief, I lived through the cold war with bombing raid practice in school and I survived the polio epidemic, measles, mumps, etc. I don't believe this is Armageddon. Although I do believe it's part of the chastisement.
As for those panic-stricken folks emptying the shelves of supermarkets, well...I just shake my head. I'm buying less and using this as an opportunity to empty my freezer and my pantry. I'll leave the Doritos and ice cream for others. After all, it's Lent. I refuse to act like shoppers on Black Friday fighting over....a package of toilet paper.
But one thing does scare the daylights out of me! The tyranny of government officials who are using this as an opportunity to flex their muscles. Some of the brown shirts are essentially putting their citizens under house arrest for the crime of
possibly
becoming a carrier and spreader of the coronavirus.
By what right does
Governor Newsom
in California lock 40 million people up in their homes and make it a misdemeanor to violate his mandate? The state has had 675 confirmed cases and 16 deaths. OUT OF 40 MILLION PEOPLE. Does that justify this extremism and the suspension of all civil liberties?
Then there's Governor Cuomo in New York who announced a lockdown of the state closing all "non-essential" businesses. Apparently that doesn't include
Planned Parenthood
which announced that they are open and a higher percentage of patients than usual are keeping their appointments to kill their babies. What a great opportunity the coronavirus is to reduce the carbon footprint of humanity!
The mayor of Champagne, IL signed an executive order giving her the authority to ban guns, ammunition, alcohol, and gasoline.
What??? A city
mayor
has the right to suspend a large number of civil liberties of the citizens?
Connecticut and Illinois have impending lockdowns scheduled as well. I fully expect Governor Northam to do the same here in Virginia. He's a tyrant of the first stripe, a master over life and death. We'll need to change our state flag and motto. From
sic semper tyrannus (thus always to tyrants)
to ... what?... Citizens in chains? Slaves of the state? Maybe we can put a heart on the flag with Cupid and Psyche. Hey that would fit perfectly with the silly motto, "Virginia is for lovers."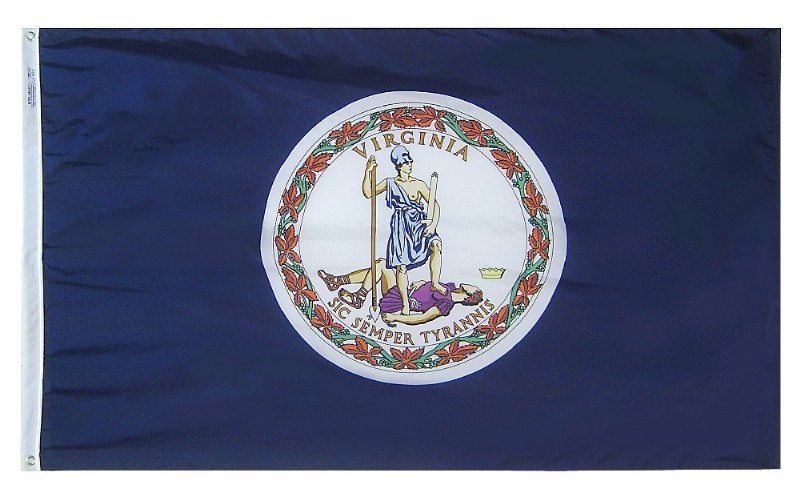 Well, I agree with Judge Napolitano. We are in a "time of madness."
Freedom in a Time of Madness
He asks, "Why is this happening?" and gives the answer. "Throughout history, free people have been willing to accept the Devil's bargain of trading liberty for safety when they are fearful. We supinely accept the shallow and hollow offers of government that somehow less liberty equals more safety."
He continues:
Today, the fear of contagion gives government cover for its assaults on freedom and poses a question the government does not want to answer: If liberty can be taken away in times of crisis, then is it really liberty; or is it just a license, via a temporary government permission slip, subject to the whims of politicians in power?
The government can justify anything in the name of the "common good." I remember during the fights over Communist infiltration of our government all the voices saying, "Better red than dead."
Today, it's "Better no Mass, no travel, compulsory home 'imprisonment' than possible infection with the coronavirus and death." And so we have, not Black Friday, but Black Lent. Mass candles snuffed in every diocese in the country!
Some things are worse than death. The Roman martyrs knew it. The recusants of Elizabeth I's England knew it. The Russian dissidents knew it. Our own forefathers knew it. But somehow in 2020, to our shame, we've forgotten.