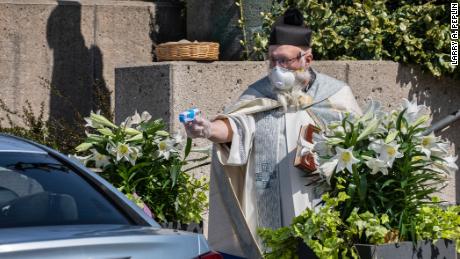 I got into a discussion on my parish's Facebook page over the Michigan priest who used a squirt gun to "bless" his parishioners. Someone posted the picture praising what the priest did. "Way to go, Father," one lady wrote.
I disagreed saying it was irreverent and turned something holy into a joke. A young man called it "novel" and wrote that being different and out of the ordinary didn't make it irreverent. That's a true statement, but in this case the "novelty," like the "novel" coronavirus, is a bad mutation. That it's gone viral just makes it worse.
I'm sure the parish has an asperges set to bless the congregation from six to ten feet away, so why did he choose to use a squirt gun? I can only presume he thought he was being cute and funny. But it was the act of a showman.
Is it any wonder congregations turn the church into a three ring circus with laughing and chatting in the presence of the Blessed Sacrament? Two thirds don't believe in the Real Presence. Which picture shows respect for the holy? Fr. Timothy Pelc's above or Pope Benedict's below?
When I recall the devotions of the past, like 40 Hours I can only mourn what's been lost and bless the priests of the past who taught us to be reverent. Lord, please restore poor Holy Mother Church. St. Jean Vianney, pray for us.