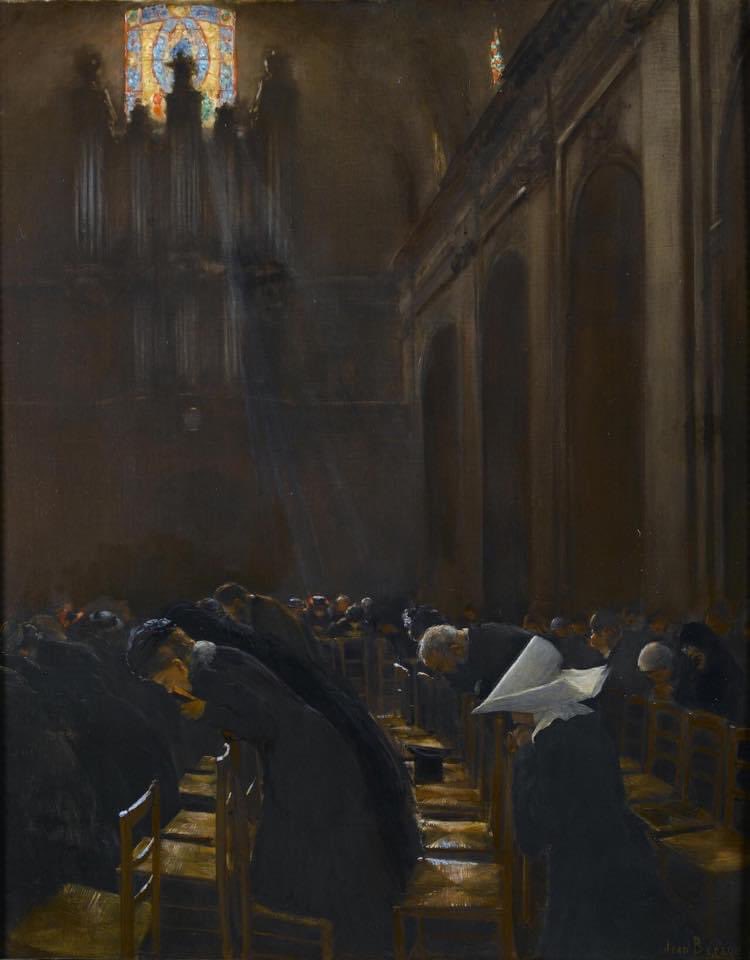 Elevation of the Host by

Jean Béraud
The Fatima message contains two requests by Our Lady.
One was for the pope in union with the bishops of the world to consecrate Russia to her Immaculate Heart. The other message was for the entire Body of Christ. It called for all of us to make the five first Saturdays in reparation for sins against Mary: against her name, her images, her virginity, her divine maternity, and for instilling scorn for her in the hearts of children. What a violation of innocence and how foolhardy for human mother to do such a thing. The dignity of every mother is wrapped up in the dignity accorded to the Mother of God.
How grievous it must be to the heart of Jesus to see his Mother treated with, not just disrespect, but with contempt and blasphemy! He obeyed the fourth commandment better than anyone ever did. How can anyone believe that any honor given to His Mother causes Him grief. He humbled Himself to be carried in the womb of one of His creatures. We are called to imitate Him. We do that when we beg for Mary's help and intercession recognizing our own sinfulness and unworthiness to approach the throne of the King. Mary takes our unworthiness and wraps it in her mantle. Then she presents us to her Son, the Queen Mother interceding for one of her humble subjects. Totus Tuus, Mary.
Make the first Saturday today to help bring about the Triumph of Mary's Immaculate Heart.
What a joy to spend fifteen minutes reflecting on such a beautiful and kind Mother. It is certainly no sacrifice. It would be fitting to choose one of the sorrowful mysteries today and to reflect on Mary's role. Was she not united to Christ as He suffered in the Garden of Gethsemane even though she wasn't present? She believed everything that Jesus said, so the passion did not take her surprise. Was she "awake" while the apostles slept? Did she pray unceasingly as her Son was taken to His final ordeal? Was she present at the scourging as Mel Gibson suggested in The Passion of the Christ? Did she feel every blow? We know Jesus met her on the road to Calvary and that she stood faithfully near the cross. What an opportunity today offers to unite ourselves to Mary's suffering.
Let us all make the five First Saturdays devotion to bring about the Triumph of Mary's Immaculate Heart? What better Lenten offering can we possibly make?