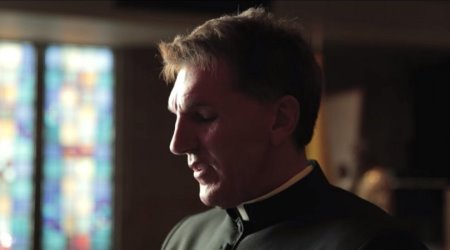 Fr. James Altman
I received an email from a friend today who is disillusioned with the pope. (What serious Catholic isn't?) I was sorry to see her saying she totally agrees with Fr. Altman's recent statements and decision to embrace sedevacantism. I do not!
Perhaps I misunderstood my friend's remarks, because she ended her email saying we all need to stick to tradition. I certainly agree with that! But I truly regret what Fr. Altman. is doing even though his criticism of the pope is legitimate. He is popular and many Catholics are likely to follow him -- but where to?
They are disgusted with the treatment Fr. Altman received from his bishop when he was forced into the growing group of canceled priest. I'm disgusted too. In fact, I wrote an
open letter to his bishop
at the time (2020) which was published on LifeSiteNews. But I cannot follow Fr. Altman down a convoluted path that leads to chaos and further confusion for the faithful. Yes, his criticism of the pope is legitimate; but one can remain united with Peter even when, like
One Mad Mom writes
, he resembles the Emperor with no clothes.
In response to my friend's email, I wrote this slightly edited response:
I agree we need to stick to tradition, but there have been other liars on the chair of Peter and I do not follow the sedevacantists who do not have the authority to dethrone a pope. Sedevantism seems to me to be neo-Protestantism. While I agree with much of what Fr. Altman has said in the past, I think what he is doing now is unfortunate. I don't condemn him; we all have to follow our own consciences. Mine does not lead me on that labyrinthian path.
I'm almost finished with Bishop Schneider's book on the Mass and then will read The Springtime that Never Came. Peter Kwasniewski did a review of that book which mentioned a bit of what Bishop Schneider said about sedevacantim which he repudiates.
Bishop Schneider argues against sedevacantism by saying that it fundamentally misconstrues the finite and conditional place of the pope within the reality of the Church and, more grievously, mistrusts God's Providence over history:
I would also say that ultimately I detect in this attitude of sedevacantism a lack of faith in the Providence of God, in the fact that God governs the world, that He is the Lord of the Church. Another error is concealed here: identifying the pope with the Church. The pope is not the Church. The pope is a member of the Church. He is a part of the Church. The Church as a whole is stronger than a heretical pope. And for a certain time, the Church is able to withstand the rule of a heretical pope. The Church is a work of God and has means of defense even against such a potential threat as a heretical pope. For example, the bishops can declare a universal crusade of prayer, acts of penance, and fasting for the conversion of such a pope. They can also clearly preach the Catholic teaching, especially on those points that were obfuscated by the pope's heretical words. They can plead for God's intervention. All these are means that presuppose that the Church is first of all a supernatural community. We are not a political party. If we were a party, normal secular means could be used to get rid of the leader. But the Church is not a political party. The Church is the Mystical Body of Christ, a supernatural community. (299–300)
The sedevacantist labyrinth -- the land of confusion!
No, I cannot go the way of sedevacantism. I agree with Bishop Schneider that such a "solution" leads to the same situation in the past when there was a pope and anti-pope (or more than one anti-pope). It is the same situation that led to the Great Western Schism with the Avignon popes, a time of great confusion for Holy Mother Church and the faithful. It seems to me that the sedevacantists lead the Church into more chaos. I don't condemn them; the crisis is real. But I think they would do better to fast and pray for Pope Francis while they promote the truths of tradition. I have no problem with confronting the pope's errors, but sedevacantism is not the answer in my opinion. I trust Bishop Schneider on that.
And so I cling to the faith of the Fathers of the Church and holy Tradition and Scripture, but I will stay with what the sedevacantists call "the ape church." No, she is not an "ape Church," she is our holy Mother held hostage by evil men. But she continues even when a bad pope sits on her throne. In reality, he will not be there much longer. Which leads me to a serious question.
What will the sedevacantists do when Pope Francis dies? Will they declare any conclave illegitimate and hold their alternate conclave and elect their own pope? What a labyrinth that would be, or should I say rabbit hole?