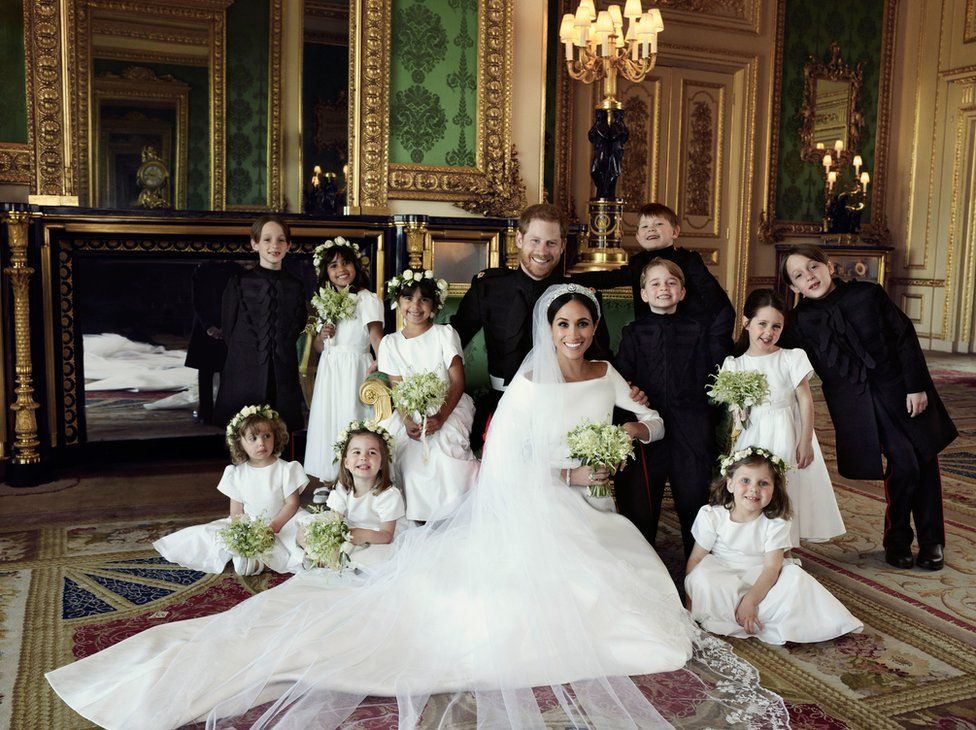 Oooooo! Aren't they just the cutest thing!
I'm about to be a wet blanket.
Catholics, why are you in rhapsody over the royal wedding between Meghan Markle and Prince Harry? Why do you celebrate with gushing Facebook posts and wedding-watching parties the fake nuptuals between a divorced woman and the prince? Is it because they are such a "cute couple?" Is it because her veil is "to die for" (even if her dress looked like a flour sack as many commented)? Is it because Princess Charlotte was the sweetest bridesmaid ever? Really? Is your faith that shallow?
Marriage is a sacrament. Let me repeat that. Marriage is a sacrament instituted by Christ to give grace. "But...but...", you may say, "Meghan was only married to Trevor Engelson for two years and doesn't she have a right to be happy?"
No...she doesn't! None of has that right. We have a duty to obey God and honor his laws regardless of whether being obedient makes us "happy" or not. And I will put up any soul following the laws of God against those flaunting his laws and bet that across the board the obedient are "happier" in the long run than the disobedient. Or, if not happy, "blessed" as the Beatitudes say.
The prodigal son's "happiness" lasted until the party ended at the pig sty.
Meghan's earlier marriage was a quick affair followed by a four day party.
Well at least the marriage lasted a bit longer than that even if it did dissolve in "irreconcilable differences." (Wasn't that a movie with Drew Barrymore?)
Reading
The Wanderer
this morning (May 10th issue), I focused in on the Live Your Faith article which began with the headline, "Marriage, The Great Sacrament." Here's the bit that should have been highlighted:
...the bond of valid marriage cannot be undone either by the contracting parties themselves or by any merely human power. This is true of all marriages, whether between Catholics, baptized non-Catholics, or pagans. "What therefore God has joined together," says Christ, "let no man put asunder" (Matt. 19:6). That is why the Church can never accept divorce and remarriage, even among non-Catholics.
It is more plainly so with Christian marriage, which is an image of the indissoluble union between the Lord Jesus and His Church. To say that a consummated sacramental marriage could be dissolved is equivalent to saying that Jesus could sever Himself from His Church and abandon her.
Meghan and Harry's wedding could have been titled "Marriage, the Great Sacrilege." So, Catholics, why are you celebrating this sacrilege? In view of the past royal weddings of the House of Windsor, one could be excused for starting a Meghan-Harry pool betting on how long the "happy couple" will last before they plead "irreconcilable differences." As long as Diana and Charles? As long as Fergie and Andrew? As long as Princess Margaret and Antony Armstrong-Jones? As long as Princess Anne and Mark Phillips?
Your gushing is useless and contributes to the breakdown of marriage. Your prayers for Harry and Meghan in sorrow for their oh-so-public scandal would be more appropriate and do them a lot more good.
If you want to celebrate a royal wedding, I'll give you one -- Karl and Zita,
last monarchs of the Austro-Hungarian empire
who, despite revolution, exile and other suffering persevered and devoted themselves to the will of God. Ask their intercession for Harry and Meghan; they'll need it!