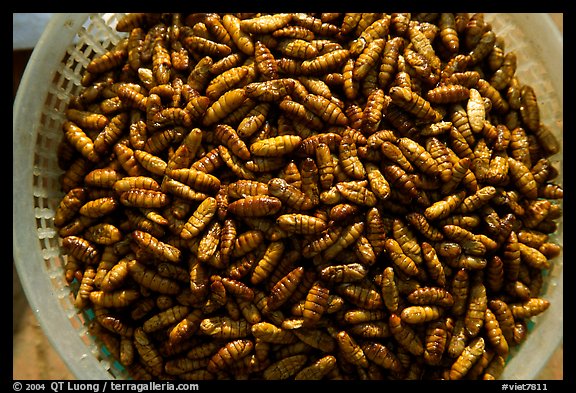 Yum! Dinner of crispy roach larvae.
This isn't a joke. It's real and in our future, compliments of the Collective West's
hysterical anti-human Green New Deal/Climate Change/WEF matrix.
Just now going to my fake Twitter account that I never use anymore there was a notice to get the new Diablo Immortal app. I had to Yandex it (I don't "Google" things anymore. I "Yandex" them) to find out what Diablo Immortal even is. With a warning of "gore and violence" I figure the "demons" to be destroyed in the game are white conservative Americans. Meanwhile the Biden Reich House and the Collective West support far-right white nationalist Nazis in the Ukraine. My immediate thought was, "Is playing this game what the narcissistic Collective West blue-pilled people living in the Matrix currently do?"
I decided that it must be since there're far too many blue-pilled people just in my own tiny universe. One neighbor (sadly, because she's a nice person) attaches a Ukrainian flag pin to her blouse each day and goes off to work, while another virtue signals by wearing a blue and yellow "I support Ukraine" T-shirt with a map of Ukraine on it in case no one knows what Ukraine is. She thinks the city of Lviv took down their 21-foot-tall Stepan Bandera statue erected in 2007.....that Ukraine is removing Bandera statues to erase their Nazi history. Meanwhile the US which went on a rampage removing "white supremacist" statues a few years ago, is sending billions in money and weapons to arm current-day white far-right Nazi nationalists in Ukraine. This woman refused to be red-pilled so accused me of watching FOX news. I don't have a TV so she asked, "Where do you get your news?" Before answering I told her that I have my own brain and place whatever information into it that I choose, not what the Collective West MSM chooses for me. I lost her at that point. She walked away.
A few days ago a new co-worker asked if I were a Republican or Democrat. She hates Trump. It's his fault gas is so high. I reminded her that BIDEN is the President now, that when Trump left office gas was $1.86 and admitted that I don't support murdering unborn children in their mother's wombs so voted for Trump. She laughed. That was her response. Laughter.
In my mind's eye I see these three women, bereft of reality, walking up to a buffalo (to pet it!) in Yellowstone Park. Or getting "rilly, rilly" close to cute baby bears to snap that perfect picture while ignoring the fact that where there're baby bears there's a protective mother bear nearby. Spoiler alert! It's imperative when buying a stuffed animal for a child - teddy bear, alligator, snake, buffalo, elephant, etc. - to be truthful and explain that in real life these animals KILL people. This goes hand in hand with not understanding why there're so many wildfires out West. For instance, Yellowstone Park never picks up dead trees anymore since liberals think it's best for dead trees to fall, then rot and go back to the earth making organic soil. Meanwhile dry trees, before they decompose - which takes 50-150 years - are "kindling" for wildfires. Think back hundreds of years ago. There were PEOPLE - Indians, then settlers - who picked up dead trees for firewood to heat their dwellings and cook their food. Dead trees were REMOVED.
Meanwhile don't expect to heat your homes anytime soon or put gas in your car or eat meat. Imagine American mothers, after 15-20 years of energy sanctions and embargos and living in the future WEF/Green New Deal, asking their children if sweet and sour larvae would be good for dinner tonight since they had BBQ crickets last evening. "The legs are still in the 'fridge so we'll have leftovers too!" You'll own nothing and be happy while eating insects. No more cows because they emit methane gas, red meat is bad for us, egg factories are being burned down, chicken meat is recalled, and restrictions are placed on ocean fishing. The elites gradually push mankind to eating bugs. Yes, it will all come together for the globalists and their Great Reset/Climate Change/Green New Deal. Are we going to do this? Eat insects? Or will blue-pilled people finally get red-pilled and stand up to the WEF and Deep State Beast?
An acquaintance recently told me how evil Putin is. How evil Russia is. That the SSPX is in schism. When was the last time this Novus Ordo Catholic read anything other than Bishop Robert Barron or watched anything other than that Opus Dei bastion of self-promoting Catholic elite fabricators called - well, not mentioning their name(s) anymore. I'll be like Johnny Depp. They'll "never see my eyes again". The answer is, this person is still entangled in both the MSM and Novus Ordo matrix. They condemn the snake dance Mass in Brazil but - hey - things at their Novus Ordo parish are great....well, except that sometimes they go to another parish since it's more orthodox over there, but the 2000 year old Mass of the Catholic Church - the Mass of the Ages - is...yeah, it's definitely schismatic.
"They" told us the truth about Covid-19, Fauci's vaccines and the 2020 election which means "they" are telling the truth about Ukraine/Zelensky and Russia/Putin, right? If you believe that then, by your own passive, self-yielding, resigned, nonresistant acquiescence, you're willing yourself to remain blue-pilled and embedded in the gooey, sticky entangled matrix of propaganda and lies.
Get red-pilled. Read THIS if you want to know the truth about the Russia-Ukraine conflict.
Go to news sources which tell the truth.
Alex Christoforou
Alexander Mercouris