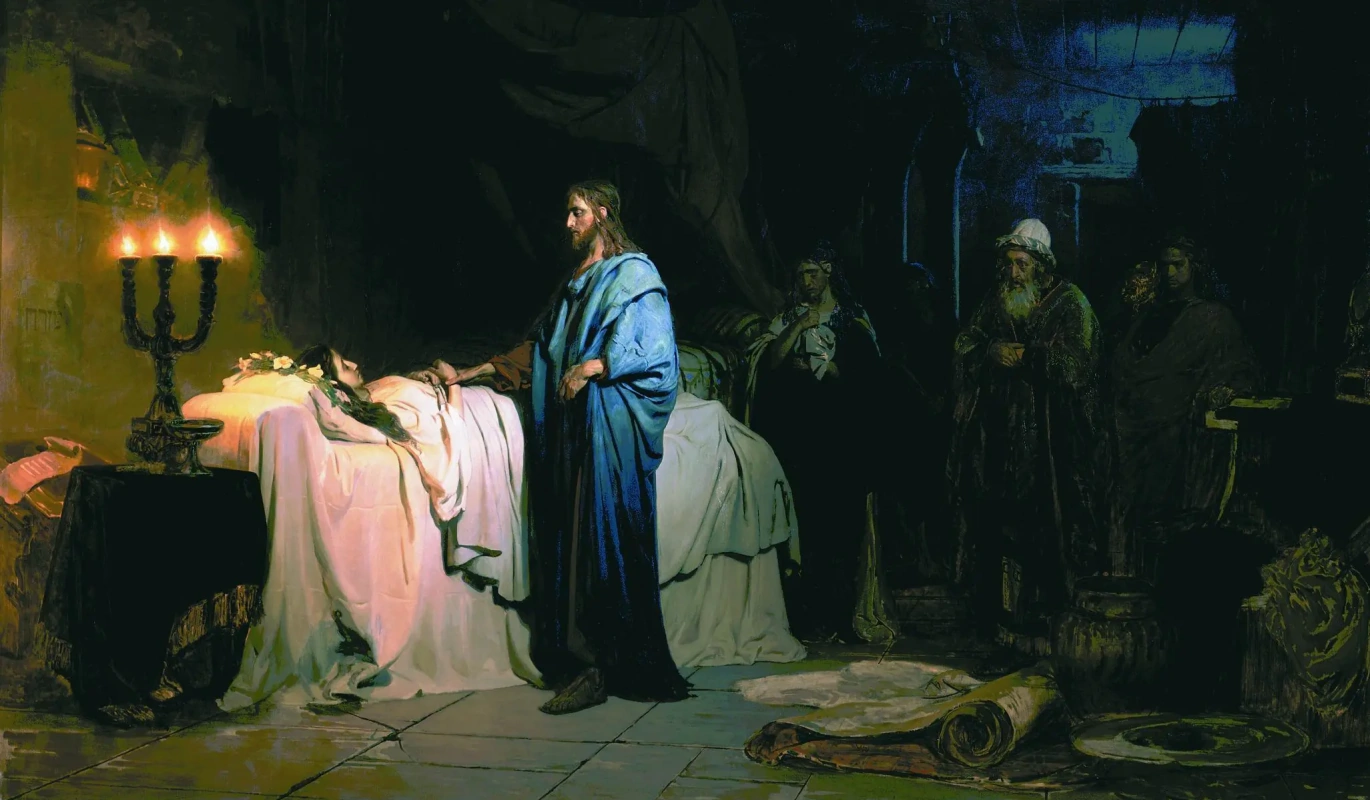 Jesus bringing me ivermectin horse paste from the feed store
In 1918 my grandfather died in Stafford, Virginia from the Spanish flu pandemic. He died, as did millions of others, from the Spanish flu's secondary infection: bacterial pneumonia. Therefore two years ago when I refused to get the Covid vaccine my younger daughter, trying to guilt-trip me into getting the shot, said, "You should be ashamed of yourself! If your grandfather had been able to have a vaccine he wouldn't have died!"
I explained that the millions of deaths from the Spanish flu were caused not because the flu was a viral infection and there was no vaccine, but because it turned into bacterial pneumonia and in 1918 the miracle drug of penicillin had not yet been discovered. It wasn't discovered until 1928 and even then not put on the market until 1942. In 1945 the three scientists involved in the development of penicillin were awarded the Nobel Prize in Physiology or Medicine.
Ivermectin is another miracle drug. It was discovered in 1975, approved for human use in 1987 and in 2015 the two men responsible for its discovery and development were awarded the Nobel Prize for Physiology and Medicine. Ivermectin is on the World Health Organization's List of Essential Medicines and is approved by the FDA as an anti-parasitic agent so why is there such animosity against prescribing ivermectin to combat Covid? Ann Barnhardt explains that HERE. She answers all other ivermectin questions HERE.
Let's now fast forward to last week when I got Covid and was miraculously cured by ivermectin horse paste de-wormer. The horse paste is the same thing as an ivermectin people pill. For instance if an ivermectin pill is pounded into powder and a little bit of water added, it becomes paste....paste for horses or humans. Also, this isn't the first time I've taken horse medicine. In the race horse business we used to take "bute" (Phenylbutazone) on the fly if we couldn't get into town right away. Of course no one took an entire giant horse pill but rather just a small portion (crushed into powder) since we didn't weigh 1200 pounds.
I've refused to get the Covid shot for several reasons, the main one being unexpected side effects, one of which can be permanent headaches. Nine years ago I had a serious case of shingles of the left cornea and almost went blind in that eye. One of the residual effects of corneal shingles (among several others) are headaches on the left side of my head everyday 24/7 for the rest of my life. I've refused the two treatments offered - pain pills since I don't want to become addicted, and Botox injections under the scalp because...well...just no. I use only coffee and Goody powders to help curb the headaches and I don't want to risk having worse headaches as a result of Covid shots.
My friends (she and I went to nursery school together when we were 4 years old in Old Orlando and her husband and the rest of them I've known since we were 18 years old) who have a small ranch in Montana invited me to visit for a week. Several days before leaving I was incredibly tired. On the trip out, when walking through the Salt Lake City airport from one long terminal to another I was weak, shaky, tired and out of breath. The next day in Montana a few of us took a walk. I wore a heavy jacket because I was chilled, but turned around less than halfway because I was shaky, tired, out of breath and wanted to lie down. A few days later I began to cough. My face felt hot however I had a normal temperature. No fever at all.
I hacked and coughed all day Saturday, Saturday night and into Sunday morning and early afternoon. By that time I had a raging headache and my back hurt, more than likely from coughing so hard. The cough got worse and worse although I had no sore throat, no mucus discharge, no fever. Just a worsening cough that seemed oddly connected to nothing. At one point my friend gave me Sudafed which helped a bit for awhile but the cough returned with a vengeance.
All I could do was lie in bed miserable and coughing. Wistfully I thought of home 2,300 miles away and the three tubes of ivermectin horse paste in my cabinet. I thought of calling my doctor of 22 years but remembered that he retired on August 12th. His office is permanently closed and my medical records are in limbo waiting to be transferred to a new doctor who just left for Spain for two weeks. My friend asked if I wanted to go to the hospital but I told her no because they'd probably kill me.
Over the years whenever I had a bad cough the doctor would prescribe penicillin so I asked my friend if she had any penicillin in the house but she did not. Even though at the time - Sunday, two days ago - I had no idea that I had Covid, for some reason I realized that my only hope was to get ivermectin horse paste so asked her to stop by the feed store after Mass and pick some up.
She brought it back about 2:30 but when I opened up the tube it was different than what was in my cabinet in Florida. In Florida the ivermectin was a clear paste but what Montana's feed store had looked like Elmer's Glue. I looked up the recommended dosage on Ann Barnhardt's ivermectin dosage conversion table and took about a third of a teaspoon instead of one full teaspoon since I was confused... clear or opaque... were they the same thing? After about an hour I decided to email Ann to ask if there was a difference between the two pastes. She kindly emailed back and said they were the same. That was about 4:30 Sunday afternoon. At that time I took another 2/3 of a teaspoon of the horse paste.
Within 20 minutes I started feeling better and by 7pm was downstairs helping with dinner. The cough was waning fast, I ate all my supper then we watched a movie. I kept interrupting the movie...blurting out telling everyone how great ivermectin was, that it cured my cough...that it was a miracle. I kept saying, "Whatever that cough was, it's gone! Can you believe that?! The horse paste miraculously cured it!" (I still didn't know it was Covid.)
On Monday morning I was feeling great and marveled that just 24 hours prior I had been lying in bed completely debilitated from an ever worsening cough. Now I had no cough and felt fine when walking through the Denver airport from one terminal to another and was likewise fine all the way home to Florida. It wasn't until I got home at 10pm and took an at-home Covid test that one of my daughters had sent several months ago that I realized I had Covid. The test registered positive with a big purple line.
I was astounded that I had Covid. Then I marveled that the ivermectin horse paste had completely wiped it out of my body within three hours. After that I was happy because only one of my friends in Montana believed in ivermectin while the rest equated my taking it to "poisoning yourself with horse de-wormer". I was happy because they saw the miracle of ivermectin HORSE PASTE from the FEED STORE ($10) miraculously cure me in front of their eyes!
I realized that there was never a fever because there was never any bacterial infection. There was just a deep hacking cough that kept getting worse and worse. I kept wondering where the fever was...why my body temperature remained perfectly normal while the cough worsened.
So whatever thing causes Covid, it's immediately eradicated by ivermectin. A few hours after taking it the cough was GONE and I was up and about and eating - just like Jairus' daughter:
23 And he besought him much, saying: My daughter is at the point of death; come, lay thy hand upon her, that she may be safe, and may live.

40 And they laughed him to scorn. But he having put them all out, taketh the father and the mother of the damsel, and them that were with him, and entereth in where the damsel was lying:

41 And taking the damsel by the hand, he saith to her: Talitha, cumi; which is, being interpreted; damsel, (I say to thee) arise.

42 And immediately the damsel rose up, and walked: now she was twelve years old: and they were astonished with a great astonishment.

43 And he charged them strictly that no man should know it: and commanded that something should be given her to eat.