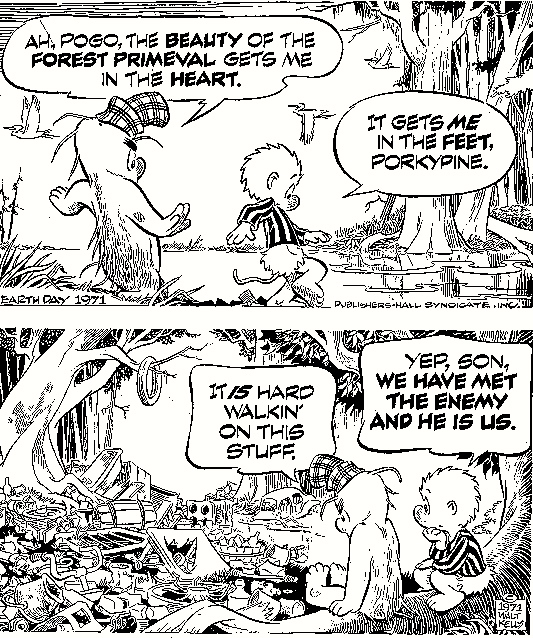 Moral pollution of the evil empire is engulfing our beautiful country!
I'd like to believe in "American exceptionalism" and I believe there once was a time when America could be accurately described in those terms. Unfortunately, today Reagan's famous line about the Soviet "evil empire" calling Communism "the focus of evil in the modern world" can arguably be applied to us.
Today, America embraces Communist principles with gusto as well as all the moral evils that call out to heaven for vengeance. If Reagan were here today giving a State of the Union speech would he play the prophet and say to Congress and to America, "We have met the evil empire and it's us?"
I love my country and it pains me to see what has become of her in the hands of so many evil men. Our people are generous. Whenever there's a natural disaster at home or abroad, Americans are among the first to storm heaven and open their wallets. Americans volunteer millions of hours every year to help those in need. Pregnancy help centers, food pantries, homeless shelters, respite care organizations, hospitals, etc. all benefit from dedicated volunteers serving selflessly.
But there's a dark side to America that cannot and should not be ignored.
Let's look at some of what the American imperialists are doing:
1: The Ukraine War. One need not approve of or defend Russia's invasion to point out the insanity of our foreign policy in Ukraine. It is not driven by concern for the poor people experiencing the daily bombardment, but by the desire to put Russia under the boot of American oligarchs and her globalist friends. Christopher Caldwell in an insightful talk given at Hillsdale College last October exposed the Complications of the Ukraine War. The war was avoidable. When NATO was established, Russia was promised that Ukraine would never enter and push up against her borders. Just as the U.S. has broken promises with just about everyone in history, think of the broken treaties with the Indians, she did an about face and now is eager to shut off Russian access to the Black Sea and do "whatever it takes" to build up the corrupt government in Kiev.
Caldwell points out that since the end of the Cold War in the 1990s, diplomats and military strategists have described Ukraine's entry into NATO as the "brightest of all red lines" equivalent to "throwing down the strategic gauntlet." Add to that the American empire's involvement in blowing up the Nord Stream pipeline. It is America that is warring with Russia using Ukraine as our proxy. And who favors it? Lindsay Graham for one who publicly and rashly called for "taking out" Putin. Really? We are now publicly recommending assassination of the head of a sovereign nation? What if a member of Russia's federal assembly publicly called for the assassination of Joe Biden? As for Senate Republican Mitch McConnell and his beating of the war drum, he needs to be "taken out" of the Senate in the next election for the good of the nation. No wonder the Republican Party is in such a mess!
Read Caldwell's article for a reality check and consider the devastation to our economy and our safety because of the administration's reckless actions.
2. Moving on, let's consider the COVID disaster. Here again we have the oligarchs running our country teaming up with Big Pharma to attack the American people. The corruption at NIH is rampant. with dozens of scientists receiving secret royalty payments (kickbacks?) from Big Pharma. Among other media outlets, Newsmax has covered the story and writes:
According to a report from Open The Books' Adam Andrzejewski, despite a large portion of taxpayer money going out to fund research, an investigation revealed that a large influx of cash had come back to the NIH and individual NIH scientists in the form of royalty payments from third parties. "(T)hink pharmaceutical companies" the report said.
Andrzejewski's investigation revealed that from 2010 to 2020, third parties paid an estimated $350 million back to the agency and its scientists. The third parties were credited as co-inventors. And because the payments enrich the agency or its scientists, the donations could be construed as a potential conflict of interest requiring disclosure.
The report details that the disclosure of payments from September 2009 to September 2014 showed that nearly 1,700 NIH scientists received more than 22,100 royalty payments totaling nearly $134 million. The revelation came from a federal lawsuit between Open The Books and the NIH, indicating that the agency has held onto 3,000 pages of line-by-line royalties since 2009. But so far, only 1,200 pages have been produced. The other 1,800 pages would detail the agency's royalties from 2015 to 2020.
No one will be surprised that the highest paid civil servant (sic) in the country, Anthony Fauci, Dr. Science, was one of the recipients of the largesse or can we call it bribery. It's well known that there is a revolving door between Big Government and Big Pharma. Meanwhile the CDC has added the COVID shot to the childhood schedule of vaccines despite the massive number of deaths associated with it. But Big Government, Big Pharma, Big Tech, and Big Media will all tell you the increasing numbers of deaths are just a coincidence. We have a massive new condition called Sudden Adult Death Syndrome. If you believe that take another jab and further destroy your immune system.
In October 2021, the four highest ranking U.S. health officials conducted a secret phone meeting with four outside immunologists to discuss the benefits of natural immunity to COVID vs. the jab. Needless to say, none of the four outside immunologists were among immunologists who are warning about the shot. In fact, they all appear to be deeply involved with the government bureaucracy. One, Dr. Michael Osterholm is a former member of Biden's COVID advisory board. Another, Akiko Iwasaki, who promoted boosting for those who've recovered from COVID is a recipient of more than $2 million in NIH grants. Dr. Paul Offit said natural immunity should count as two doses of vaccine, but still recommended continued boosting. In January, he shifted gears to admit that the data doesn't support boosters for most, calling it a "losing game." Finally, we have Peter Hotez who co-invented the rotavirus vaccine. Hotez received $789,000 in grants in FY 2020 and has amassed over $3.5 million in NIH grants between 1985 and 2004. What do you think?
Hmm....a little conflict of interest? Is money impacting their promoting the NIH narrative?
I hate to call it bribery, but...well...think about it. Hotez actually repeatedly stated that natural immunity is worse than vaccine immunity which goes against common medical opinion from the past including that of Dr. Science himself. All the latest studies are showing that natural immunity is as protective or more protective than vaccination. But, of course, as the NBC article shows, Big Media is still hyping the vaccine as the best route to protect the unvaccinated. Of course they are making this a self-fulfilling prophecy by suppressing early and effective treatments that could have saved lives. Never in medical history has this been the standard --"Just wait for Big Pharma to create a vaccine. Until then, get sick, get sicker, and die of neglect! That will scare people enough to send them running for the jab."
Meanwhile the sudden, unexplained deaths continue and women are losing their babies at an unprecedented rate, but the elephant in the room has to be ignored or explained away in order to appease the evil empire. It's getting harder though. A recent peer-reviewed study found that,

"all the messenger RNA COVID-19 vaccines can increase serious adverse events in people, including sudden cardiac deaths."

BREAKING:

Lead author of peer reviewed research re-analysing Pfizer & Moderna trials on mRNA vaccine @JosephFraiman calls for immediate suspension of jab due to serious harms.

'We have conclusive evidence that the vaccines are inducing sudden cardiac death'

This is huge 🔥 pic.twitter.com/bS3A1ui561

— Dr Aseem Malhotra (@DrAseemMalhotra) January 9, 2023
3) The evil empire's agenda targets kids for medical abuse with their promotion of puberty blockers and surgery for confused children including minors. More millions for Big Pharma and Dr. Frankenstein.
4) Parents are deliberately undercut and lied to by leftist school boards who use the Justice Department to go after them as "domestic terrorists."
5) We continue to kill babies in the womb at home and export abortion to the third world. What the left once claimed they wanted to be "safe, legal, and rare" is now federally championed up to the moment of birth by self-proclaimed "devout Catholic" politicians serving Moloch. They use the FBI and other agencies to spy on traditional Catholics and storm the homes of peaceful pro-lifers and others who defy the empire.
Our country has, indeed, become an evil empire enriching its oligarchs on the backs of American taxpayers as they destroy the economy, but even worse, take a wrecking ball to western culture and faith in God.
Some are fighting back like the courageous young mom, Chaya Raichik, founder of Libs of TikTok, the red rose rescuers, parents who boldly challenge porn-promoting school boards, those fighting euthanasia and assisted suicide, those who devote themselves to prayer and sacrifice begging God for a spiritual revival.
American exceptionalism lives on among courageous warriors fighting for faith, family, and culture. Ask yourself, "Am I among them?"