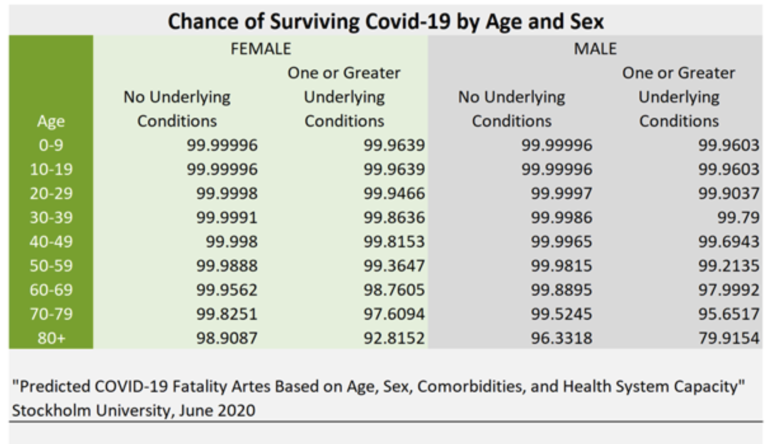 Yes, people die from Covid. Guess what, people die from a lot of things. In fact, SURPRISE! No one gets out of this life alive! What is your actual mortality risk from the virus? That depends. For some it's miniscule:
Healthy 35-year-old woman
If unlucky enough to catch coronavirus, chance of surviving = 99.9991%. The chance of dying is less than the fatality risk of a general anaesthetic for a procedure
For others, it's greater:
85 year old man with co-morbidities*
If unlucky enough to catch coronavirus, chance of surviving = 79.9154%. The chance of dying is less than the risk of living for one year in a care home.
Study the chart above. If you have underlying health conditions that increase your risk, ask yourself how to increase the odds of your fighting off the virus well. The easiest, if you aren't doing it already, is to take Vitamin D3. Almost everyone is seriously deficient. Does your primary physician test your vitamin D levels? He should.
Read up on ways to boost your immune system.
If you are 50 or 100 pounds overweight, lose some weight. Easier said than done, you say? Of course, but fear is a great motivator. When I had cancer at 39 I went on a real health kick for a year: eating right, exercising. I lost about ten pounds and was nearly back to my wedding weight of 124. Every time I looked at a piece of cake or considered drinking a soda, I thought about how sugar is poison. I probably put a thousand miles on my bike that year. When I didn't die, however, I confess I went back to my hot fudge sundaes.
The terror that has been generated in the population is inexcusable. Yes, Covid is serious. That's why it's sensible to do everything you can to boost your immune system and practice practical prevention measures like washing your hands frequently and avoiding crowds. But where was Dr. Fauci when the data came out that most deaths occurred in those deficient in Vitamin D3? Where was the medical advice to take supplements and adopt good health practices? Masking is pretty ineffective.
In my opinion, Fauci is a quack and a snake oil salesman who couldn't care less about people's health. What kind of doctor says it's up to you to take your chances on a one night stand if you're willing to take the risk but warns you to stay away from your family? He bears responsibility for the development of the virus at the Chinese lab as well. He funded it knowing safety issues were a serious problem. He bears even more responsibility for the insane reaction to the virus that threw millions out of work and added massive stress, compromised people's immune systems and put us all under house arrest. How many teenage suicides did he enable?
Join the Truth Team. Share the mortality risks of the Wuhan virus and encourage people to beef up their immune systems. Remember that over 99.9% of people under 80 with no underlying health conditions survive Covid. Even with underlying health conditions, 95.6% of men under 80 and 97.6% of women survive the virus. That doesn't lessen the grief of families for those who die, but it puts into perspective the fact that the virus is not the black plague. It's time to stop acting like it is. And wearing masks outside and while exercising is unscientific and irrational. Just stop it!