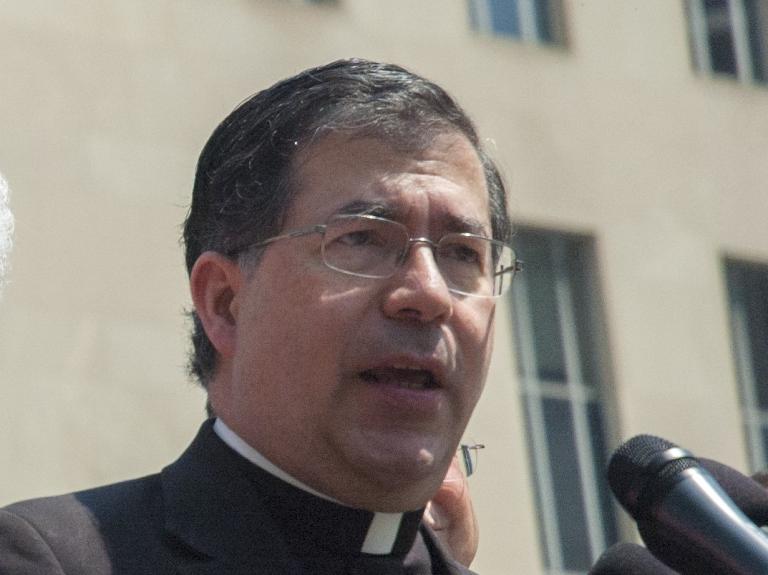 Update 1/26/23: Several witnesses including two priests have confirmed Fr. Pavone's inappropriate behavior with women. One, Fr. Stephen Imberratto, who worked at Priests for Life from 2015-2018 described his experience to Church Militant:
"During my three and a half years at PFL, I counseled a woman who endured harassment from Frank Pavone and eventually left PFL employment over his inappropriate behaviors.

"PFL did not have a human resource department providing recourse to aggrieved employees, nor a safe, independent and confidential harassment committee... Having a general awareness of other victims over the years besides the woman I counseled, I resigned after the board, at my insistence, finally instituted an independent and confidential employee harassment committee to protect all employed at PFL against any future inappropriate behaviors."
Original Post
As more information comes out about Fr. Frank Pavone, many people are no doubt experiencing disillusion and depression!
No! No! Not another one! He's so pro-life! He saved so many babies!
Take a deep breath.
Yes, he did save a lot of babies. Thanks be to God! Pray for him.
How sad that we can't unreservedly trust our priests. I knew both Fr. Paul Marx and Fr. Norman Weslin, pro-life priests extraordinaire! I admired them both greatly. I attended two of Fr. Marx's Marriage and Family Life Workshops at St. Johns in Minnesota back in the 1970s which helped form me as a wife and mother as well as a Natural Family Planning Teacher who urged couples attending our classes to plan to have children. I rescued and prayed with Fr. Weslin, also known as Fr. Baby Doe, and interviewed him for an article once. What a good man and priest! We were privileged to have him stay at our house once and he celebrated Mass for our family.
Nevertheless, I tend to be a bit suspicious of celebrities, both lay and clergy. They have many temptations, especially to vanity, pride, and human respect. And when you look at the long list of disappointments among our shepherds...well...a little caution in relationships with these men is never a bad thing.
I read The Pillar's article on one of the women who complained about Fr. Pavone's behavior. It has the ring of truth and it's heartbreaking to read. I sent my guardian angel to pray with the young woman's guardian angel today. Broken trust can break one's spirit, and it's clear this young woman was deeply hurt by what happened to her.
Pavone was accused of 'sexual misconduct' before laicization
Laicized priest Frank Pavone was accused before his laicization of sexual harassment, grooming behavior, and coercive physical contact with young women.
As a mother and grandmother, I think about my three daughters and young adult granddaughters. Dads and moms certainly need to alert their daughters about warning signs that should set off alarm bells about predatory men and certain behaviors they use when they are interested in seduction. Here's a partial list:
1) If someone treats you in a way that makes you uncomfortable back away. Talk to mom and dad or a wise counselor!




2) If someone strokes your hair, touches your face, rubs your back, etc. that's too intimate unless you're engaged. Tell him to knock it off! Keep in mind that even with a fiancé, it's important to set boundaries that protect chastity. Talk to mom and dad or a wise counselor!




3) If you are at a conference and your employer comes knocking on your hotel room door late at night, don't let him in. Talk to mom and dad or a wise counselor!
4) If your employer treats you in a particularly personal way that differs from the way he treats the others in the office, be on your guard and keep your distance. Talk to mom and dad or a wise counselor!
And after you talk to mom and dad, report the guy if he crosses any boundaries! Unfortunately, that doesn't always solve the problem. So the next thing to do is to flee. Never let yourself be trapped in a physically, emotionally, or spiritually dangerous situation.
Having said all that, I want to warn people about letting this type of thing spark disillusion. Most priests are not seducers. Don't jump on the "I can't trust anybody!" bandwagon. But there are certain types of prudent behavior that offer protection and should be followed.
Always avoid being alone with a priest except in the confessional going behind the screen or when receiving spiritual direction. If you get bad vibes, choose another confessor. What he said may be innocent, but if you're in doubt, choosing someone else is simply prudent. As for the priest, if he has any attraction to a young woman he should immediately sever the relationship. No bike rides together as I saw one newly ordained priest at our parish do in Alexandria. He ended up abandoning his vocation after little more than a year.
Don't touch priests, especially if you're young. It's for their protection as well as your own. They are men after all and not beyond temptation. Give them the respect their ordination deserves and treat them with a proper reserve. Of course, you can be friends, but there should always be a certain prudent distance. The priests should exercise the same caution and reserve with young women in the congregation.
Joking and stories are fun, but be sure they're appropriate. What you say to your brother, might not be proper to say to a priest. If it feels like flirting, it probably is. Don't do it! There are women who set their caps on the "forbidden fruit." Don't be one of them!
Your guardian angel is a great adviser. Consult him often and examine situations with his help. God gave him the duty to guard and guide you in all of your ways. Take advantage of his help.
May God give us all wisdom and grace and help us to be sensible, prudent, and charitable in all our relationships.