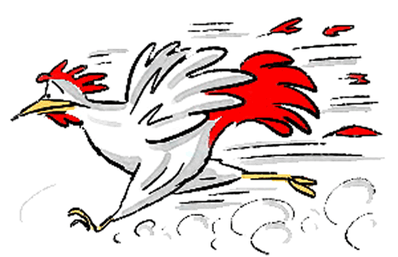 The sky is falling! The sky is falling!
They're celebrating the Old Mass again!
What shall we do?!
Chapter I - The Hysteria
O

nce upon a time in Detroit there

lived

a chicken in a TV studio (Barnyard Militant) who, while filming a "Spotlight" video wearing her bright pink jacket that "popped" against the drab background drape, felt a

whiff

of incense waft above the dark feathers on her head.
Christine Little, known to friends and enemies alike as Chrissie (spelled Chrazzie), hysterically screamed, "The sky is falling! The sky is falling! There's incense in the air and it landed on my head! The SSPX is celebrating the forbidden Old Mass again which Barnyard Militant has declared schismatic and must be banned from the face of the earth forever!"
As she ran squawking down the digital information highway of the Internet, Chrazzie Little ran head on into Rooster Looster whose spectacular golden top feathers flopped lazily over one beady eye. "Rooster Looster! Rooster Looster! The sky is falling! The sky is falling! Incense is in the air and it landed on my head! What shall we do?!"
Rooster Looster, who had heard Chrazzie Little's tantrums long before he saw her, replied, "Sue the snakes! Sue the snakes! Sue them for pain and suffering, intentional infliction of emotional distress and torturous interference for refusing to celebrate the Novus Ordo!"
Chrazzie Little, in her frantic fantasy of being the most effective and greatest investigative journalist of all time hesitated, then questioned Rooster Looster: "Er...What will we get for all that?"
Rooster Looster replied, "We can get payment for malpractice of religion, negligence of not adhering to Vatican II thereby resulting in mental anguish, impaired earning power and loss of esteem."
Enthusiastically Chrazzie replied, "Wow! That's fantastic! Let's go find a really really good lawyer!" So they ran down the road looking for legal assistance crying, "Sue the snakes! Sue the snakes! Smash the conspiracy! Smash the conspiracy!"
Chapter II - The Victimhood Scheme
Meanwhile dear old bespectacled Foxy Loxy, Attorney-at-law, J.D., LL.M,, and J.S.D., dressed in a blue suit and carrying his briefcase met Chrazzie and Rooster Looster on the road. He held up his paw to halt them then inquired who they had in their sights to sue this time, for he had already heard the news, and knew his services would be needed.
"Well, well, Chrazzie and R.L. You've already sued every Catholic entity in the kingdom with your sensational tabloid journalism. Who haven't you sued yet? Who is it you want to be deprived of their freedom of speech, cancelled and cast into prison this time? Is anyone left? Is it the SSPX?"

"No! No!' clucked Chrazzie, stamping her claws. "We want to sue the
Kansas City Star

!
They need to stop publishing content contrary to what I have declared to be true for I speak the truth always, and am esteemed across the kingdom for my honesty and integrity!"
"Is that so?" replied Foxy Loxy. "Your grievances of victimhood then would be personal injury of your thought process, intentional infliction of outrage resulting in emotional distress, and interference of old news by exposing current hearsay and lies?"
"Yes!..er...NO, NO! That's impossible because Barnyard Militant is the premier Catholic apostolate on the planet (DONATE here) and we expose lies, not tell them!"
Chapter III - The Trial
Foxy Loxy begins: "So you're saying then when you, in your
tiresome diatribe
(
https://lesfemmes-thetruth.blogspot.com/2021/10/is-church-militant-lying-or-are-they.html
), accused Fr Wegner -
at the time District Superior for the SSPX in the United States - of being
caught on audio
referencing 200 cases of abuse that you DID know he was referring to 200 sex abuse cases in all 4 Kansas Dioceses -
Wichita, Salina, Dodge City, Kansas City -
of Novus Ordo priests and NOT the SSPX. Isn't that right, Miss Little? You DID know that, didn't you? Miss Little? Miss Little! I'm speaking to you!
Please stop clucking at the jury! It's inappropriate!
"Since you weren't paying attention, I'll repeat my last statement. You

did willingly spread fake news with a lie by saying Fr Wegner was referring to the 200 cases of sex abuse as being from

50 SSPX priests alone,

didn't you, Miss Little? You willingly lied to defame and slander the SSPX, didn't you?"
"And now you're rehashing all the old lies to renew that defamation against the SSPX. Why is that, Rooster Looster and Miss Little?"
"Because we want to go on a cruise! (REGISTER here) We need money because not

enough

people signed up to hear Rooster Looster tell other people how to be Catholic! He knows how to be the perfect Catholic because he was a sinner once and now isn't anymore and people need to listen to him on how to live life because no one else has ever been so gloriously redeemed! Isn't that right, R.L.?!" says Chrazzie Little flapping her wings.
"Yes, yes...All that and more," admits Rooster Looster.