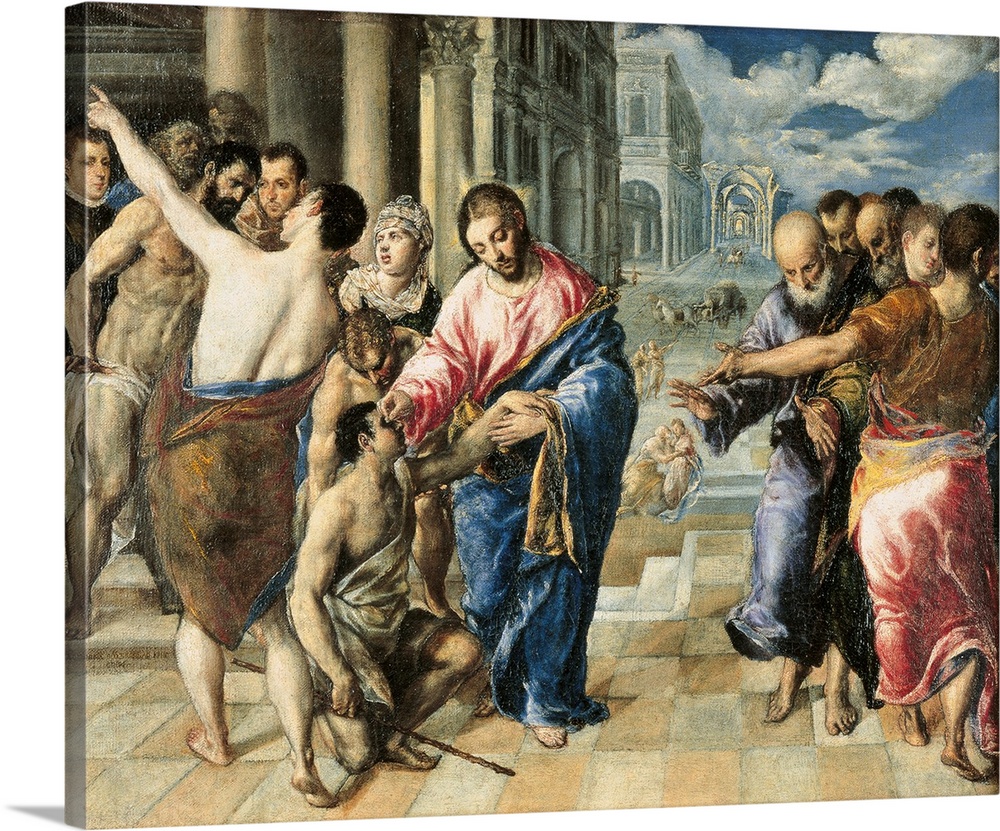 El Greco emphasizes that Jericho is the city of sin. This image crops out a bare-breasted woman,
perhaps a harlot being led by a young man. Note in the background what appears to be a seduction and the contempt of the people on the right. You can almost hear them saying, "He consorts with sinners!"
The homily at Mass today delved into the symbolic meaning of Jesus' meeting with Bartimaeus the blind man. The Fathers of the Church say we should always consider the literal meaning of scripture first, and there's no reason to doubt that Bartimaeus was a real person sitting on the side of the road. He had no doubt heard all the stories about Jesus and clearly believed, unlike many of the Jews, that Jesus was the Messiah, the Son of David, prophesied in the Holy Books. And so he called out to Jesus when he heard he was passing by going up to Jerusalem, the city of God. Bartimaeus confirmed his belief in Jesus as Messiah, the "Son of David when "he called out in a loud voice," "Jesus, Son of David, have mercy on me!"
Why did everyone try to hush him up? Because the Jews believed illness and disability were punishments for sin. Clearly the blind man deserved his lot because he was a sinner. But their tune changed when Jesus told them to bring the blind man to Him. "What do you want of me?" Jesus asks.
Where have we heard that before?
When a baby, enmeshed in the sin of Adam and Eve, is brought to the Church for Baptism, the first question to the parents is, "What name do you give your child?" The second is, "What do you want from the Church of God?" Since the Church speaks for Our Lord and the priest serves in persona Christi, the priest essentially asks the same question Jesus did of Bartimaeus, "What do you want of Me (Jesus)?"
Consider the scene. Bartimaeus sits by the side of the road in the city of sin wrapped in sin (his cloak). When Jesus calls out, he immediately casts off his cloak and runs to Him. He leaves behind the symbol of the old Adam, wrapped in the world and in sin. He wants to follow Jesus and embrace the new life in Christ.
"What do you want from Me?" Jesus asks. And Bartimaeus replies, "Rabbi, I want to see."
What does Jesus say to him then? "Your faith has saved you."
The first requirement to gain heaven is faith. Fr. John Hardon S.J. stressed that truth over and over. Faith and humility are necessary to gain heaven. Only little, humble faith-filled people go to heaven.
Bartimaeus is one of the little ones. Despised by his neighbors, he receives a special privilege from Jesus, and, in fact, recognition that he sees better than most. He recognizes the Messiahship of Christ when the religious leaders see nothing but a rival and threat to their own power. Like the priest and Levite in the parable of the Good Samaritan, they daily "pass by" Bartimaeus and offer him nothing: no mercy, not comfort, just contempt for a suffering sinner. But Jesus knows His little lambs and responds to their bleating.
The final scene happens after the meeting with the Messiah. As Jesus continues toward Jerusalem, "Bartimaeus immediately saw and followed Him in the way."
We are invited to do the same. Embrace the faith, accept God's mercy, and follow Him in the way." He is indeed, "THE WAY, THE TRUTH, AND THE LIFE." Why would any sane person not follow Him?
My God, I believe, I adore, I hope and I love You. I beg pardon for those who do not believe, do not adore, do not hope, and do not love You.
My Jesus, I trust in you.