In her book RELICS Joan Carroll Cruz writes that the bones of St Peter, Prince of the Apostles, lie under the altar
of St Peter's Basilica. In 1968 his bones "were examined geologically and anatomically and were found to have been the bones of a large man who lived in the first century." Additionally, St Peter's feet are missing. Since he was crucified upside down, the soldiers, to make it easier to remove the body from the cross, hacked off St Peter's feet instead of removing the nails.
Nine of St Peter's bones from his 2,000 year-old grave were put in a reliquary and kept in the Chapel of the Apostolic Palace. It was this reliquary, containing those nine bones, that Pope Francis took on June 29th, the Feast of Saints Peter and Paul, and gave to Bartholomew, Ecumenical Patriarch of Constantinople - or as it is called today by its Islamic name, Istanbul.
Francis' explanation was,
I no longer live in the Apostolic Palace, I never use this chapel, I never [celebrate] Holy Mass here, and we have St. Peter's relics in the basilica itself, so it will be better if they will be kept i
n
Constantinople
. He said that the thought to give away the relics came to him the night before while in prayer, which is why he told Eastern Orthodox Archbishop Job to tell Bartholomew that they were a gift from God. There was no "discernment" on Francis' part, no thinking that he might be listening to Lucifer instead of God, or that giving away the relics of our beloved St Peter would cause an outcry (so far, not much...not a peep from any cardinal or bishop).
Many of the Catholic laity are upset with Francis to have so cavalierly given away the bones of St Peter.
O
n social media they complained with various comments:
What's to keep him from giving the Veil of Our Lady at Chartres to the Muslims since there is the Fatima connection?
Has he decided that no future pope will be living in the Apostolic Palace or is he planning on being the last pope?
There is no way the security of those bones can be guaranteed safety in Istanbul. What's to keep Muslims from talking them and throwing them into the Bosporus Straits? Destroy them
in
a Facebook or Yo
uTube video or sell them on Ebay
?
The Eastern Orthodox split from the Church over the papacy so why would they want the bones of St Peter, our first pope? To remind them of why they are schismatics?
What? Is Francis now trafficking in relics? Planning a garage sale of Vatican art?
On the other hand, some Catholics thought it was a good gesture, and eagerly look forward to unity between Rome and the
Eastern Orthodox. However, what Francis did in giving away the bones of St Peter is not about doctrinal unity. He has said, h
as he not, that the status quo must be maintained, that is, East is East and West is West and just let the situation remain that way. Therefore, doctrinal unity was the last thing on Francis' mind as a motive for sending poor St Peter to fend for himself among schismatics and Muslims in an Islamic country.
The underlying motive has to do with Francis' upcoming Synod on the Amazon and its Instrumentum Laboris, his Laudato Si green agenda and the fact that
Ecumenical Patriarch Bartholomew is called the Green Patriarch, the Protector of the Environment. "His All-Holiness Ecumenical Patriarch Bartholomew has persistently proclaimed the primacy of spiritual values in d
etermining environmental et
hics and action.
His endeavors have earned him the title Green Patriarch – coined and publicized by the media in 1996, while being formalized in the White House in 1997 by Al Gore, Vice President of the United States. In 2008, Ecumenical Patriarch Bartholomew was named one of Time Magazine's 100 Most Influential People in the World for defining environmentalism as a spiritual responsibility." An Eastern Orthodox Synod also established a new commission for catechesis to deal with Church business concerning environmental protection.
It's clear that the green agenda has been going on for decades in Eastern Orthodoxy. They're far ahead of the Catholic Church in this game and Francis is playing "catch-up."
Giving the eastern Orthodox the bones of St Peter has nothing to do with doctrinal unity, but rather unity with schismatics on the green agenda for the entire planet - unity on the environmental agenda and the bio-degradable mess that is the apostatizing Instrumentum Laboris of the Pan-Amazon Synod. It's the misty thought of we must all get together in our apostasy like the song says: "
Let's get together
, you and I, why don't we combine....we can have a great old time...a gruesome twosome we will be."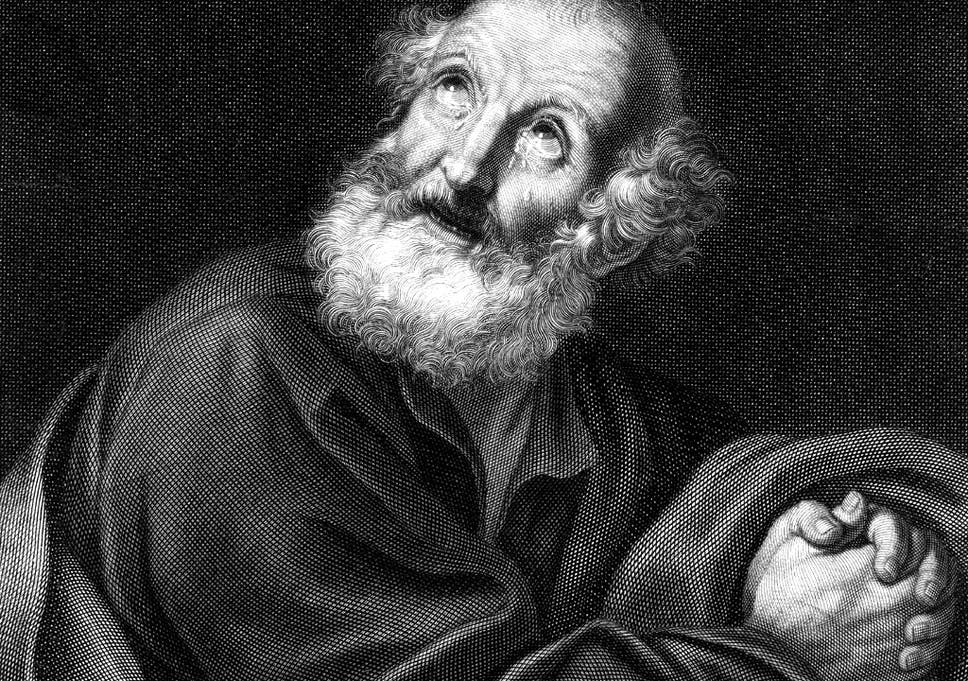 St Peter praying to be rescued
from an Islamic country.
With Christians of the East and West unified on the Pan-Amazonian Synod, the UN's Agenda 21 and AOC's Green New Deal, man will be well on the way to returning to his roots. Far far back to his primitive state - as far back as Adam and Eve except without God. Man will live in his most primitive state, like Amazonian tribes, infantile and as innocent as before the Fall. Babydom is the goal, with the earth, not man, being made in the image and likeness of God and the earth having dominion over man, that is,
Genesis 1:26 inverted and the reality of human nature entirely erased.
Already in planning are new green solutions of the problematic issue of what to do with human bodies when people die. Burial of the body is verboten - too costly and cemeteries use too much available land. Cremation is a thing of the past - too environmentally unsafe what with human ashes scattered in the air to be breathed in or tossed in lakes, rivers and seas to pollute the ecosystem.
Therefore Human composting is the new solution. Like the days of old when people just laid down and died in the forest and their bodies naturally combined with the earth, in the near green future we will be composted. Then once our bodies are composted and turned into soil (only takes 4-6 weeks), our children can plant their field crops and vegetable gardens with the rich biodegradable soil we have become. If grown children live in a city and don't want to use their parents as soil for their potted plants, they can instead donate the composted soil their parents have become to put on conservation lands. Isn't that wonderful!...because how much more sustainable can man get!... and it gives a new meaning to "being as old as dirt."
Can the reason Pope Francis no longer has reverence for St Peter's relics be that deep in his leftist green psyche he thinks St Peter should have been composted to begin with? It makes one wonder what directions Francis will give for his own burial.
Additionally, even though the historical location of the formal capital of the Eastern Roman (Byzantine) Empire was Constantinople, let's not forget that today the city is called by its Islamic name - Istanbul.
"Istanbul (not Constantinople)"