John van Hengel,
Father of Food Banking

Editor's Note: I'm offering this article today from my friend Dexter Duggan. One thing for which I often give thanks is the gift of friendship. I've been blessed with many wise friends and colleagues, fellow Catholics striving to advance God's kingdom by magnifying the true, the good, and the beautiful. Dexter has been one of those friends for decades. I recommend you become a paid subscriber to his substack page so you can get wonderful articles like this in your inbox. I reprint this inspiring article in full with Dexter's kind permission! Really..

.

join his substack community!


Helping the hungry to give thanks, and not only on Turkey Day
As we express gratitude at the table for blessings, here's a memory of one broken man who swept the groaning board with an idea.
PHOENIX — With Thanksgiving heading toward us, a time officially to be grateful, let's recall a man who put food on tables all year long around the world after having an idea that was hiding out in plain sight and was as simple as saying: if you want to play ball, lace your shoes. Simple, but previously overlooked.
His name was John van Hengel, never as famed with the public as a major entertainment or sports star and increasingly forgotten as the years pass. But that's what happens to everyone. Quick: Who was the most famous and powerful man in Edinburgh, Scotland, in 1730?
Van Hengel believed in the Biblical admonition to do good works here below and lay up everlasting treasure in heaven, where he presumably headed upon leaving this Earth at age 82 in 2005.
As a young newspaper writer, I first met van Hengel in the early 1970s just south of downtown Phoenix, at St. Mary's Food Bank. He was athletically trim and tanned and had some lifeguard work under his belt— back in the days before skin cancer was so much a concern.
He was presiding over a modest former bakery building on the west side of the street, at 816 S. Central Ave., that had a large refrigerator for temperature-sensitive goods but only evaporative cooling for the majority of the space, so it wasn't weathertight like a structure with refrigerative air conditioning.
With evaporative cooling, hot air is forced through wet cooling pads that are moistened continuously, then the air is blown through the building. It's a somewhat humid feeling way to cool down, and largely was succeeded here in the desert by refrigerative cooling.
Van Hengel hosed down the concrete floor as we talked, so it wasn't as if there were rugs to damage in the desert heat and mechanically induced humidity. The former bakery was 5,000 square feet, and van Hengel didn't shy from the gritty work. He said that if he started taking government funding, he'd want to hire someone else to do his job.
Shelves lined the walls of the large open space under one roof, stacked with cans and boxes that soon would be picked up by local charities for their needs.
Van Hengel had both the heart of a Samaritan and the head of a realist. He told me about a young guy who'd been headed off to participate in an anti-war demonstration in those contentious days of the Vietnam conflict, but van Hengel said that he challenged the guy to stay right there instead and assist at the food bank as a work of mercy — and the guy did.
A former successful publicist in California, van Hengel had headed back to his home state of Wisconsin after a divorce that left him hurting. He worked in a quarry where he took out his anger on the rocks but was injured badly while breaking up a fight. He headed here to the desert for rehabilitation and became involved in various activities done with humility, including coaching youth sports and working at the St. Vincent de Paul charity kitchen.
He drove a truck to gather food items including citrus — here in the desert, many people had the fruit on trees at their homes — brought them to the kitchen, then delivered the surplus to other charities' addresses. It occurred to him that to save time, he needed a central point where the donations could be taken, then picked up by the charities themselves.
The parish of St. Mary's Cathedral (later elevated to the status of St. Mary's Basilica) gave him the initial financial backing and the floorspace at the former bakery, and in gratitude van Hengel named his enterprise St. Mary's Food Bank, even though his work was nondenominational. He cited a Biblical verse then added a challenging question that became a motto for the endeavor: "The poor we shall always have with us. But why the hungry?"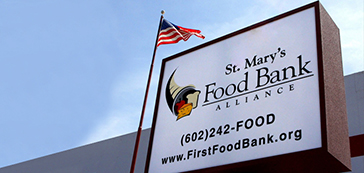 This had been a laudable but not unprecedented undertaking. Then one day an idea hit him that set off a revolution. What the Wright Brothers' inspiration did for the airplane, van Hengel did for food banking.
Van Hengel explained to me that one day when he had been talking to a woman with a large family whose husband was in jail, he asked how she was doing about feeding the kids. Just fine, she replied. Surprised, van Hengel asked how this was so. She said they got all the food they needed from the dumpsters behind grocery stores. Van Hengel learned that plenty of perfectly good food was being discarded by the stores every day for reasons like cans being dented or the sell-by date having just expired.
His discovery seemed so obvious, as I was to write about him, it would have made people slap their hands on their heads and ask, "Why didn't I think of that?" But they didn't think of it, and he did. Lots of edible food was available to help the hungry; he just had to ask for it.
If van Hengel could have franchised this idea, I remarked, he would have become a billionaire, but he had no interest in acquiring such riches.
Some of his stories of his adventures became standard. Here's one of them. One day van Hengel in his secondhand clothes was padding through the offices of a supermarket chain in search of donations when an executive saw him and told a fellow worker to go find out who that bum was and throw him out.
After van Hengel explained his presence, the atmosphere changed. After that executive later retired from the chain, he went to work for the food bank.
Once the innovation was established, it flourished. Like the Wright Brothers' discovery of flight led before long from a fragile biplane to large airliners, van Hengel's concept grew from one city's food bank to such banks around the nation, then even larger enterprises. The former bakery building was long outgrown. "Second Harvest" became "America's Second Harvest," then "Feeding America." Donations came in from large national companies. They weren't filling one delivery truck but multiple railroad boxcars.
Van Hengel became a consultant to food banks around the world. He and I touched base occasionally, and I wrote a few more articles about his work. At his modest apartment one day, he showed off stacks of mail to answer and asked if I'd be his secretary. Because of other responsibilities, I declined. He showed me a prepared sheet with some basic responses, telling correspondents that St. Mary's couldn't be their financial angel, and that they would have to cultivate local resources.
The Feeding America website says, "Today, Feeding America is the nation's largest domestic hunger-relief organization — a powerful and efficient network of 200 food banks across the country. As the coronavirus pandemic brought record unemployment and instability, the Feeding America network rose to meet the need. Last year, the Feeding America network served 6.6 billion meals."
One of van Hengel's remarks that became famous was: "It's amazing how many people are being fed because of this crazy little thing we started. We're feeding millions and it is not costing anyone anything."
One day at his office at the St. Mary's Food Bank headquarters, the still unassuming van Hengel, a Catholic, showed me that among the various awards hanging on the wall was one from the Vatican, a handsome-looking Commendatory Knight of the Papal Order of St. Gregory the Great. He wasn't boastful about the awards, but if someone thinks enough of you to give you one, you can at least show that you appreciate it.
The Wikipedia page about van Hengel says: "In 1983 John left America's Second Harvest to establish Food Banking Inc. (which became International Food Bank Services in 1991 and is now known as Global FoodBanking Network). John served as a consultant to food banks around the world, traveling to Canada, Mexico, Brussels and Spain to oversee the startup of their food banks. John also helped establish food banks throughout Africa, Eastern Europe, Asia, South America and Australia."
A December 2021 news item from Feeding America said: "Feeding America is the second-largest charity in the U.S., according to Forbes magazine's newly released annual list of the 100 largest U.S. charities ranked by private donations. In its fiscal year ending June 30, 2020, the nation's largest domestic hunger-relief and food recovery organization received $3.5 billion in private donations, a 19 percent increase over last year. Research for the Forbes list was based on financial data from 2020. This is the fourth year in a row Feeding America has been rated the No. 2 charity by Forbes, which also reported that Feeding America has a 99 percent efficiency rating."
After life took some unexpected turns for van Hengel decades ago, it developed into something remarkable. If you had told him this would occur back when he was hosing down the former bakery's concrete floor and wearing his secondhand clothes in the early 1970s, he might have said you'd been out in the sun for too long. But it probably would have intrigued him as a publicist.
___
Message from Dexter C. Duggan: I request that readers who follow my posts consider becoming paid subscribers to my Sunrise Sunset. Substack writers like me need your support to continue.