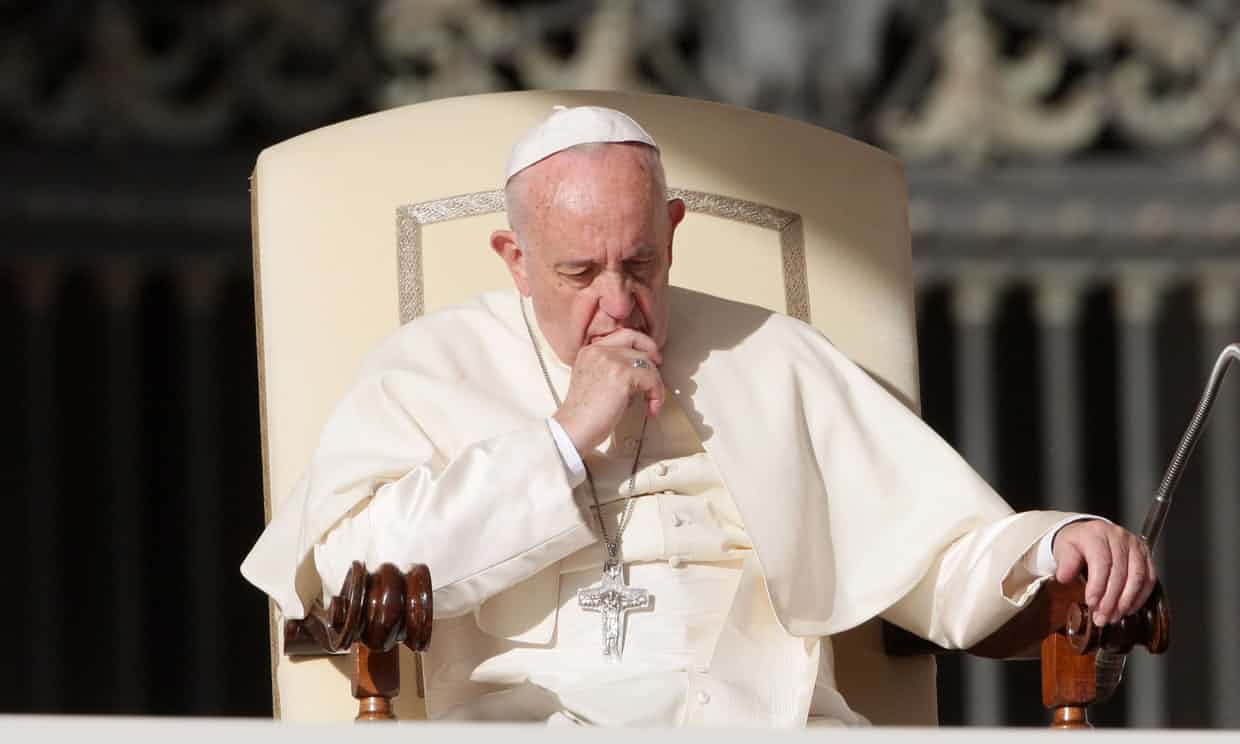 Hmm...Let me think...which pro-abortion, gay-
activist person should I honor next?
Another day, another scandal from the Vatican. (Sigh!)
When I think that the U.S. bishops have a policy denying honors to pro-abortionists, I wonder how long that can stand with such an example from the pope. He seems to hate traditional Catholics while he honors some of the most scandalous people on the planet:
Emma Bonino
, an Italian abortionist; pro-abort and gay marriage-hyping
Hollywood celebrities;
population control advocates
Paul Ehrlich and John Bongaarts
. Good grief! The list just goes on and on.
The pope calls a lot of people Pharisees, but not the hypocrites who hate the Church but proudly accept her honors. Generally, the condemned are those who embrace the teachings of Christ and strive to evangelize accordingly. They are parents who refuse to embrace their children's sins and admonish their behavior while continuing to love them unconditionally. They are pastors who care more about teaching their flocks the truth than worrying about walkouts during the homily. They are lay people who defend the unborn and assist their mothers with practical help. They are young people who kneel for Communion and
practice devotions like the rosary
and offer spiritual bouquets. The pope has criticized them all while he happily embraces proud unrepentant public sinners who, under canon 915, should be denied Communion. I wonder how many souls will go to hell because they were encouraged in their sinful choices.
Back in the 1970s I read the popular book, I'm Okay, You're Okay. It seems to me that we live in the I'm Okay, You're Okay pontificate (except for global warming deniers, traditionalists, those who embrace Catholic doctrine, etc.) Only one problem, we aren't okay. If we were, Christ would never have needed to become man and die for our salvation. Those who think they are okay are the self righteous who suffer from spiritual pride. The gospel talked about them today. (Mark 2: 13-17) Those of us who know we are NOT okay realize we are the "sick" who need a doctor. And so confession is on my itinerary for this afternoon. The sick who want to get better enter that tiny "doctor's office" often. It's the surest way to spiritual health combined with frequent use of spiritual health super-food -- the Holy Eucharist.
Pray for the pope and listen to him when he speaks with the voice of Holy Mother Church. For the rest, recognize that he walks in the footsteps of the world like many of the religious leaders of Jesus' time (and many previous popes who lived less than edifying lives) and don't follow his example.