Father Krysztof Olaf Charamsa worked for the
Vatican until 2015 when he "came out." How many
others in the homo subculture still work there?
I had a long conversation with
Fr. Jim Haley
yesterday about the Vigano bombshell [
Read the letter here
.] We talked about the crisis in the Church and the necessity for all the cancer to be cut out.
How can the exposure of the corruption in the hierarchy not be a vindication of this brave priest?
Fr. Haley lost everything in an attempt to get his bishop, his spiritual father Paul Loverde to do something about the filthy corruption poisoning our Church?
How might things be different if 15 years ago someone in authority had listened to him beginning with Bishop Loverde. After his trial, Father Haley spoke to several bishops who told him nothing would be done about it. A few clergy said the important thing was to get him back into ministry, but he insisted the truth be told. "It will NEVER happen!" he was told.
Long before Bishop Morlino spoke about the "homosexual subculture," Fr. Haley was blowing the warning trumpet. He went to Bishop Keating, Bishop Loverde's predecessor, who asked in Rome during his ad limina visit what he could do about his homosexual priest problem. He left Rome in a body bag.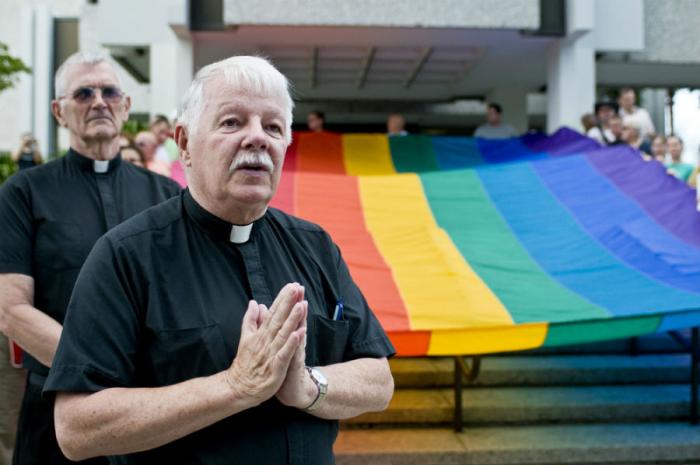 If your priest is a propagandist for homosexuality,
run, don't walk, in the other direction. Those who
shill for the homo subculture are either
homosexual themselves or they approve of it.
Bishop Loverde asked for evidence and when Fr. Haley presented it, not only did the bishop ignore it, he warned his "spiritual son" saying, "You have no idea what I can do to you!" Then he trumped up a case against him and threw him out of his parish with a few hours notice.
The message was sent loud and clear to the diocesan clergy. Shut up or get out! Accept the "homosexual subculture" and bend to its power or be destroyed." Fr. Haley kept silence as instructed until he was deposed in
the tragic Lambert case.
had to accept the homosexual subculture and bend to its power or be destroyed. So Fr. Haley went into a long and lonely exile.
Responding to a supporter who emailed him recently expressing his thanks and promise of prayers, Father responded:
Thanks for your persistence and prayers, but the Fr. Haley you once knew is dead; "murdered".

(He is currently excommunicated by the Vatican; and has been forcefully dismissed from the priesthood by the Vatican for violating a personal precept of silence. He will now incur another excommunication for violating the Pontifical Secrecy prohibiting him from revealing the above.)
Outside of the fact that those in power in the church (purposely not capitalized) will NEVER allow him back -- too dangerous to the secrecy that allows them to hold power,

he cannot now be resurrected unless someone in the Church,

where the fullness of Truth in faith and morals is supposed to reside,

and from where the Truth is supposed to be proclaimed,

answers the moral dilemma/conundrum/scandal of having and supporting same sex attracted priests/bishops/archbishops/cardinals/popes.
Will the revelations coming out bring Fr. Haley back? I have been praying for that for fifteen years! I invite my readers to join me. May God bring back all the good and faithful priests pushed out by the homosexual subculture and the false shepherds! For more on Fr. Haley visit my blog,
Bishop Loverde, Where is Fr. James Haley.
TO BE CONTINUED....