Nabi Sayeth:
With the majority of the media's focus on the sexual abuse scandal within the Catholic Church, one can easily overlook the rot that exists among the sisters.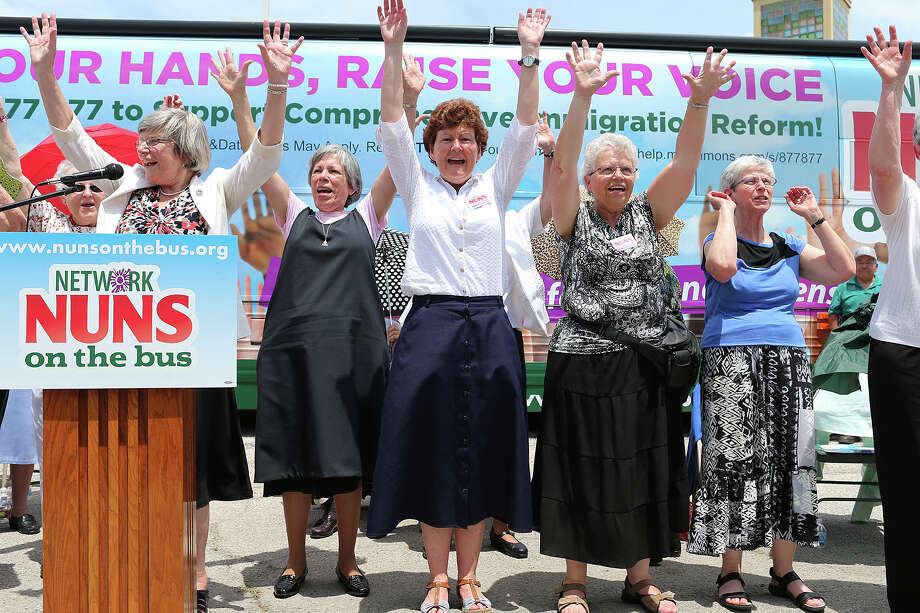 Beginning with the nuns on the bus who dissent from Church teaching.
Some news stories will help illustrate my point:

-A Catholic nun with a gambling habit was sentenced on Tuesday to community service and repayment of less than half of the $850,000 she embezzled from Iona College, where she worked as vice president of finance.
An attorney for Sister Marie Thornton, better known as Sister Susie, blamed "childhood demons" for the addiction that prompted her to send phony invoices to the Westchester County college to cover up for gambling sprees in Atlantic City, New Jersey.

The teary nun, who pleaded guilty to embezzlement, apologized in U.S. District Court in Manhattan for the crime she committed.



"I'm sorry I hurt so many people I genuinely loved," said Thornton. "I'm sorry for embarrassing my religious community, my family and my friends."

(Aman Ali 11/8/11 Reuters)
-Two nuns from a Southern California parish stole "substantial" amounts of school funds for personal use over a period of years, according to an internal investigation.
The Rev. Michael Meyers, pastor of St. James Catholic Church in Redondo Beach, sent a letter on Wednesday to families of St. James School where the nuns worked, the Los Angeles Times reported.
Meyers said the Sisters of St. Joseph of Carondelet, the nuns' order, was cooperating with the parish and the Archdiocese of Los Angeles to determine how much the sisters owe, the report said.
It wasn't immediately clear when the thefts occurred or how much money was stolen, the Daily Breeze of Torrance reported.

(11/29/18. Bradford Betz. FOX News)
-"The students in the school for deaf children would call her the 'bad nun,":
the woman who was supposed to take care of them, but who they say would send them into rooms to be sexually abused by priests. Others said she committed abuse herself and would force them to watch pornography on television.
The "Bad Nun" Sr. Kosaka Kumiko
And in a particularly abhorrent case, after a 5-year-old girl was sexually assaulted by a priest, the Roman Catholic nun allegedly forced her to wear a diaper in class, to conceal the bleeding, according to Argentine news reports.
Because the other children at the school were deaf, only the victims' abusers would have heard their cries.
The nun, named Kosaka Kumiko, was arrested and charged Friday on suspicion of helping priests sexually abuse children at the Antonio Provolo Institute, a school for the hearing-impaired in the Mendoza province of Argentina, authorities said. She was also charged with physically abusing the students."
(5/8/17 Samantha Schmidt Washington Post)
And then there's the words of one of the greatest sisters in Catholic history:
"We must ask God to give strength to our souls if we are ever to persevere in prayer and detach ourselves from the world, so that we might grow closer to "His Majesty,"


St. Teresa of Avila 16th c.
Nabi Asketh: What has happened to the sisters in the aforementioned stories and so many other sisters as well? They have fallen in love with "the world" and not with Jesus.


Our Lord cautioned His disciples numerous times that they cannot serve two masters. If they sought to do so they would find themselves loving one and despising the other.
Please keep in mind that sisters make a vow of poverty, they promise to live a life of simplicity so that they may be freed from the distractions and allurements of the world.
When one stops putting Jesus first by seeking perfect union with His Heart, problems occur because of the many temptations to sin.
Nabi Sayeth: As it is with clergymen so it must be for religious sisters. Jesus left them all a very simple but urgent job description in Mark 10:45….
"The Son of Man came to SERVE and not be served; To give His life as a ransoms for the many."
May all who serve the Church learn to live His words….