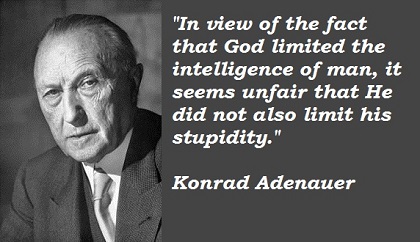 This morning we got to Mass early and I had a few minutes to read Anthony Esolen's article in
Magnificat
on Chancellor Konrad Adenauer, a great Catholic political figure of the mid 20th century. One incident in Adenauer's life occurred in 1933 after he was removed as mayor of Cologne by the Nazis. He applied to an abbey for prayer and rest. Adenauer, a critic of the rising German Reich and Hitler listened to the abbot, a friend, say, "Many of our monks disagree with you about Herr Hitler. German soil, German blood."
This was not a unique position among German clerics as Dietrich von Hildebrand relates in his great work, My Battle against Hitler. Sadly, many men in roman collars and other German Catholics defended the tyrant long after his evil plan was clear.
Adenauer wasn't one of them. He replied to the abbot, "We are Catholics first, Germans second."
Esolen continued:
[The abbot] would change his mind eventually, when the Nazis began to destroy the churches. It is a danger to which man is ever susceptible; to forget first principles and instead to be guided by the surging passions of politics, one of the worst forms of enthusiasm that can afflict mankind.
But politics isn't the only enthusiasm that can "inflict mankind." We are currently seeing many "enthusiasms" endangering us: enthusiasm for abortion and contraception, for "integral ecology," for "gender fluidity," for same-sex "marriage"... along with a panoply of other issues screaming for attention, many of which are intrinsically immoral or spun in such a way to make them highly problematic.
In facing these issues, it's critical to remember, "We are Catholics first." That is the first principle that should govern our behavior, which reminds me of the first few questions in the Baltimore Catechism.
Who made me? God made me!
Why did God make me? To know Him, to love Him, and to serve Him in this world so I can be happy with Him in the next!
Is there anything more important?
St. Ignatius puts it in a slightly different way in his spiritual exercises. The first principle and foundation of the exercises is this: "Man is created to praise, reverence and serve God our Lord and by this means to save his soul."
A friend gave me a bumper sticker several years ago that reads HEAVEN! DON'T MISS IT FOR THE WORLD.
Good advice.
How many have so anesthetized themselves with pleasure and noise and worldly distractions that they never think about the WHYs and WHATs of life? Why do I exist? Why was I born in this particular place at this particular time? What am I meant to do and why? But all those questions derive from a correct answer to the first. WHO MADE ME?
I've been thinking of the epitaph I want on my grave. No I'm not morbid, I simply believe we should all reflect on what's most important! St. Robert Bellarmine believed priests should preach on the four last things at least once a month: Death, Judgment, Heaven, or Hell. It has a way of focusing the mind, eh? -- to face the reality of one's own mortality!
There's one big question that should give all of us pause. WHERE WILL I SPEND ETERNITY? If we aren't asking that question and examining our lives in consequence...well...we are in serious danger. If you start on a journey with no notion of where you are going and the pitfalls along the way, the end result is not likely to be very satisfactory.
Personally, I always want to remember that "I'm Catholic first!" I want every decision I make, every prayer I say, every person I touch to be impacted by my love for God as a believing and practicing Catholic.
If you are reading this I'm praying for you today. May we meet merrily in heaven and bring as many people with us as we possibly can.
Jesus, Lord of the Universe, have mercy on us and shed Your light upon us.
Mary, Mother of all people, pray for us!