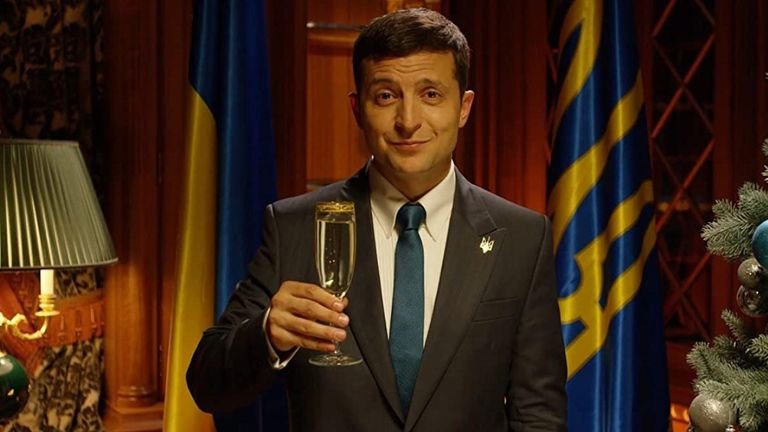 Zelensky pretending to be President of Ukraine on TV show Servant of the People
before really becoming President of Ukraine after running on
Servant of the People political party platform
Recently while looking at the geo-political, Globalist One-World vs Multipolar Fair-World Order, Russia/Ukraine, East/West factions around the globe, a line from Frankie Laine's old song,
Rose, Rose, I Love You
wafted through my brain. The line is, "East is East and West is West, our worlds are far apart".
When I was a pre-teen I used to lie on the living room floor listening to records and that song would break my heart. The man singing the song is leaving his true love, Rose, behind in Singapore because you see, "he cannot stay". He "has an aching heart" but must go back to America and can't take her with him. I used to feel
so sorry
for Rose and her man. They were
so
in love! It was
so
sad! They loved each other
so
desperately but they'll never see each other again!
Now that I'm no longer an emotional pre-teen, am older and have lived a fair bit of life, my perception of many things has changed including Rose, Rose I Love You. As soon as I thought of the line, "East is East and West is West", I immediately wondered at how I ever saw that song as a romantic tragedy.
Today I think Rose and her man had a steamy love affair while he was stationed in Malaya, but now he has to leave her "standing on the jetty as the steamer moves away". He sings that he'll always remember "oriental music and you in my arms, perfumed flowers in your tresses and lotus-scented breezes and swaying palms". She apparently had "almond eyes", was "fragrant and slender 'neath tropical skies" but nevertheless he must "cross the seas and never see her more" because he has to go "way back to my home on a distant shore". He does however throw in there that he's a bit concerned since he croons, "What is your future now we have to part?"
Well, I'll tell you what Rose's future was. She stood on that pier until the ship disappeared on the horizon, then turned around and thought, "What the hell is going to happen to me now?! I'm pregnant and he left me alone with no home and no money. He didn't even give me his address in the States. And my parents won't let me in their house since I'm pregnant with a foreigner's baby." Since it was the days before crisis pregnancy centers were in operation, Rose, despised as a prostitute of a Westerner, probably just disappeared into the mass of humanity living on Singapore's streets with her "tugi" child who, if he were a boy, would learn to steal and take drugs or if a girl, would become a prostitute.
Meanwhile the man goes back to his family in the States, graduates from an Ivy League college, becomes a lawyer, marries into the correct social circle, lives in a big house, has several children, and lives comfortably ever after playing golf at his country club. The only time he thinks of Rose is when his wife "has a headache". Even then he doesn't really wonder what happened to Rose as much as he thinks of the great sex they had together while he was in Singapore.
So you see, my perception of Rose, Rose I Love You changed. Now I look at the lyrics of that song and think in more realistic terms, i.e., that he probably never loved Rose. I changed my outlook. While only God is immutable and human nature itself never changes, people as individuals can change, governments can change, countries can change and we need to be aware that if something or someone has changed for the better or worse, we should not refuse to recognize that current reality.
Just look at the United States, now taken over by a planned election coup and controlled by the Deep State with the MSM cheerleading every Marxist agenda of Joe and his sidekick Kamela Harris cackling like she's possessed. The US, per Deep State directives, creates chaos across the globe, then encourages other countries to fight proxy wars to achieve America's own goals which is always regime change in those particular countries. That's positively evil. It's the old trick of getting someone else to do the dirty work for you. What's going on in the Ukraine is evil and not on the part of Russia.
The US placed oligarch Igor Kolomoyski's puppet, Volodymyr Zelensky, as President of Ukraine.
Kolomoyski
, a buddy of Hunter Biden, is the creator of the TV program "Servant of the People" where Zelensky played a history teacher who eventually becomes president of Ukraine. The show was a psyop to install Zelensky, an actor/comedian, as president of Ukraine. Kolomoyski founded the Servant of the People political party for Zelensky after which he (Kolomoyski) bankrolled a billion dollar account for Zelensky in Costa Rica and bought him a $35 million villa in Sunny Isles, FL north of Miami. Kolomoyski also keeps a shark in a tank in his office to intimidate business associates.
Ukraine, known to be the most corrupt country in Europe, is replete with Nazis who hate the Russian people with the same passion that Hitler hated the Jews. America now champions racist far right white Nazis! The US goaded Zelensky, surrounded by his Nazi goons, and Ukraine into war with Russia because the US wants President Putin overthrown by a pro-Western regime in order to further the globalists' One World Order plan for the universe. Once under control of the globalists, the West would plunder Russia's massive supplies of oil, gas, metals, grain and fertilizer,
So, no, Rose, he never loved you and the US, along with Ukraine, unfortunately is fast becoming the most corrupt country on earth.