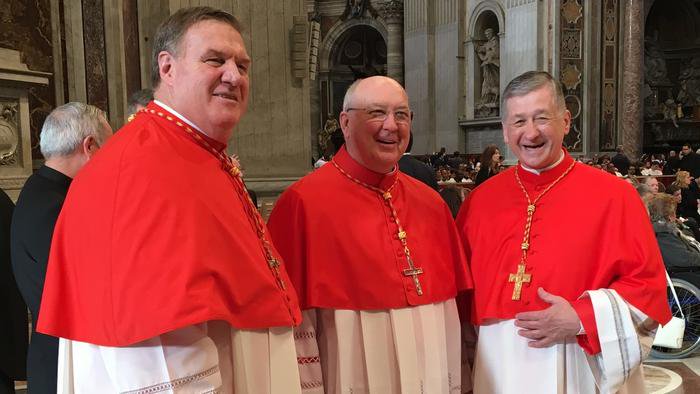 Trio of Church scoundrels -- great friends of the Francis!
Sadly, many sayings from the past have disappeared from common usage. And yet so many express the truth in graphic ways. "One bad apple can spoil the whole barrel." sent a clear message that spending time with a "bad apple" was likely to result in rotten behavior rubbing off. Not that a "bad apple" can't change, but, until he does, the safest strategy to avoid rottenness is to keep your distance.
My mom also used to say, "Show me your friends and I'll tell you who you are." and "Birds of a feather flock together." I thought of that today when I read this post from OnePeterFive about the new honor for another gay-advancing cardinal, Kevin Farrell, Prefect of the Dicastery for the Laity, Family and Life in Rome.
McCarrick Protégé Cardinal Kevin Farrell Given Key Vatican Position
Since his papacy began, Pope Francis has surrounded himself with beaucoup "rotten apples" and dirty birds. Cupich, Farrell and Tobin are among the most dissent-ridden prelates in the Church, certainly in the United States. Cupich has persecuted faithful priests in Chicago like
Fr. Paul Kalchik
who burned a rainbow banner hung in his church by a previous pastor and traditional priest
Fr. Frank Phillips
, pastor of St. John Cantius and founder of the Canons Regular of St. John Cantius. Cupich is known for his hostility to the TLM (Traditional Latin Mass). Face it, the good guys in Chicago get the boot and priests like the notorious
Fr. Michael Pfleger
get gushing support. When Pfleger organized civil disobedience that shut down a major artery in Chicago protesting gun violence, Cupich applauded.
As a rescuer who's gone to jail for defending babies in the womb, I support civil disobedience TO SAVE LIVES. How many lives were saved by Pfleger's PR stunt? Do you think criminals in Chicago were impressed? I'd be interested in the murder statistics for the day. Was there a substantial reduction because of Fr. Pfleger's theatrics? Pfleger is all about gun confiscation from the law-abiding and St. Sabines, his parish, is well known for flaunting gay activism in direct confrontation to Church teaching. But he has Cupich's full support. Not so Chicago's orthodox priests. As I said, birds of a feather flock together and the orthodox are a different breed.
Oh...and when has Cupich ever encouraged civil disobedience to defend unborn babies? There was no support when he was bishop of Spokane, just the opposite. In fact,
he discouraged participation in 40 Days for Life
there and instructed the clergy not to be involved, although he tried to downplay things went his actions were exposed. So Pleger engaging in anti-gun politics is a-okay, but priests defending the lives of the unborn is too political. Cupich is the point man for Francis at the
sex abuse meeting
next week. Ironic, eh, since he has dismissed homosexuality as a problem since the beginning. Ah, yes, it was clericalism that led homosexual clergy to rape and violate young men. Of course, your Eminence, how could we be so stupid?
I appreciate you sticking with me on the
homosexual coverup. I reward my faithful dons.
Welcome to your new job as papal Camerlengo!

And then there's Cupich's buddy, Cardinal Kevin Farrell, the Sergeant Schultz of the hierarchy who lived with Teddy McCarrick for six years but "knew nothing" and was so astounded and never guessed and oh-my-goodness-who-could-have-known his roommate was a sex pervert?
Farrell is another homosexual advocate and a big cheerleader for
Amoris Laetitia
, the troubling document defending sacrilegious Communion and undermining the indissolubility of marriage
.
He
"ripped" Archbishop Chaput
for his guidelines on the document. Chaput made it clear that the divorced and invalidly remarried may not receive Communion. (He's so unpastoral!) Farrell had an LGBT activist deacon assist at the closing Mass at Dublin's World Meeting on the Family last summer. He also had notorious Fr. James Martin present the keynote address. In his earlier career, Farrell was a member of the Legionairies of Christ where was
given special jobs by notorious Legionairies head,
Marcial Maciel. Like his "I know nothing!" claims about McCarrick, Farrell bloviates that he was completely unaware of Maciel's activities. His claims of ignorance start to unravel when you consider his cover ups of abuse when
he headed the Dallas diocese
.
Yup, birds of a feather flock together and there are plenty of dirty birds rewarded with plump Vatican roles. Francis just gave Farrell one more.