Is Cardinal Cupich already in Baltimore for the USCCB meeting? I'll bet his flock breathes a sigh of relief whenever he leaves town.
If he is already in transit he missed the fun at his cathedral today presented compliments of SAVE THE LATIN MASS!
Cupich, like the pro-abortion folks who believed Roe v. Wade settled the abortion issue once and for all, is living in a pipe dream. Traditionis Custodes didn't end anything, it put the movement toward tradition into hyper-drive. The SSPX is not at war with the Church. They are in union with two millennia of popes who protected the faith. When a pope attacks doctrine and tradition, it is imperative for the faithful to follow the example of St. Paul and resist him to the face. And I have to say that our little chapel is bulging at the seams with large Catholic families who love Christ and His Church. Can we say that about a lot of Catholics giving Pope Francis high fives? Think of Nancy Pelosi, Joe Biden, Tim Kaine, Andrew Cuomo, Gavin Newsom, Terry McAuliffe, etc. ad nauseum and shake your head with a rueful laugh.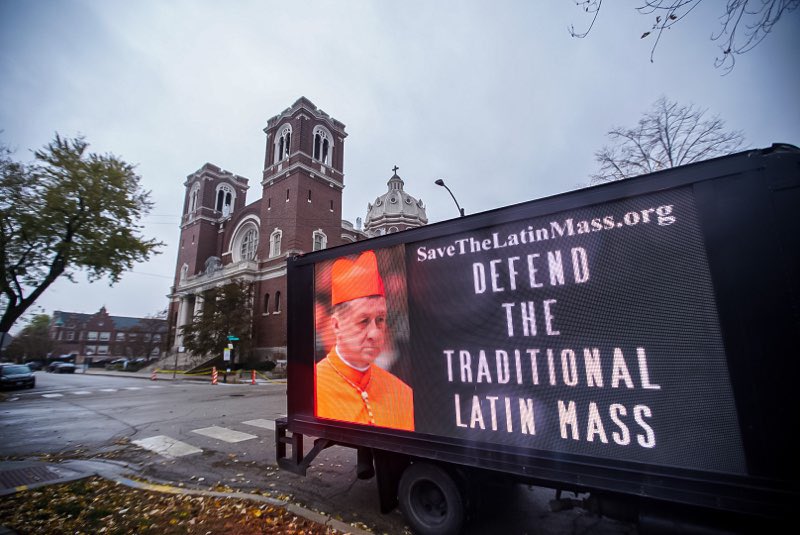 As for the wolf in red in Chicago, "You're out of luck, Your Eminence. The Latin Mass is here to stay!" Here's what Fr. John Hunwicke has to say on his blog and I completely agree.
...a prayer, for the SSPX who are naturally wondering if they have enough clergy and sufficient resources to meet contingencies which are already arising in some regions. What a good thing they have retained their canonical freedom, so that the Bergoglians won't be able to get their greedy hands on money or property! But will the Society not soon have to face up to the question of new episcopal Consecrations? Is that pencilled in for the start of the next pontificate? May God give them prudence and courage.
Well said, Father. May God give us all prudence and courage, not to mention perseverance.