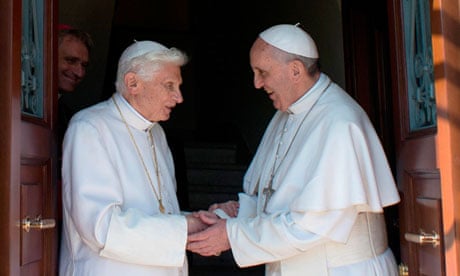 On this they agree: NO HOMOSEXUALS
IN THE PRIESTHOOD!
Nabi asketh: What about the word "NO" do the Lavenders not understand???
The teaching of the Catholic Church is tried, tested and True. However, we live in a subjective relativistic culture where even the most basic of truths are called into question and/or rejected. For instance, the pathetic debate on "gender identity." What about Jesus' words, "He created them MALE and FEMALE…" do they not understand? One may say, "But I FEEL like I am a female", when they are, in fact, biologically a male, however, that does not change reality. As a farmer once said, "You can put lipstick on a pig but if it 'oinks', it's still a pig"!
Two consecutive popes explicitly mandated a position that has been held by our Beloved Catholic Church for centuries: Homosexuals are not to become priests…
Pope Benedict XVI on the Priesthood and Homosexuality:
In his recent interview published as the book Light of the World, Pope Benedict XVI noted that the Vatican has repeatedly stated that men with a homosexual orientation should not be admitted to the priesthood even if they performed no homosexual acts. He stated that he did not want celibacy to be an excuse to attract people with a homosexual orientation. There are several reasons for this stance. The priesthood is not a denial of the spousal meaning of the body which underlies marriage. This spousal meaning entails the fact that since man is a composite of body and spirit, the body is the physical self by which the gift of the soul which characterizes married love is finally ratified. The giving and receiving of sperm and ova expresses physically the prior giving and receiving of soul. This gift of self to another, for those who are called to it, can also be realized by the gift of self to God as is the case with virgins and religious. Though celibacy is a discipline, because of the all-encompassing concentration of forces necessary for the priesthood, realized especially in the consecration of the Eucharist, it is a fit means for carrying out this spousal meaning of the body. As a result, a priest must have the same ability to give the gift of himself totally as a married man does; only his gift is to the whole Church. There is an argument as to whether homosexuality is a result of nurture or nature. In either case, as long as this condition remains, the total dedication of self required of the priest would not be possible. If this is the result of nature, this cannot be changed; and the person could not contemplate a priestly vocation. If this results from nurture, then it could be changed; in which case after a person has changed it, he could pursue the priesthood.

B. Mullody
Elise Harris/CNA/EWTN News

VATICAN CITY — In a closed-door speech to Italian bishops Monday, Pope Francis spoke about the number and quality of seminary candidates, including concerns about their sexual orientation.
At the start of his May 21 audience with Italian bishops, Pope Francis voiced three areas of concern for the Church in Italy, the first of which was the lack of vocations.

Francis' brief remarks on his concerns, which also touched on evangelical poverty and transparency and the incorporation of Italian dioceses, were televised; however, his discussion with the bishops afterward was not.
In his public remarks on vocations, Pope Francis lamented the culture of the provisional, of relativism and of the dictatorship of money, which hinder young people from discerning consecrated life. He also proposed that Italian dioceses with an abundance of vocations lend some of their priests to those Italian dioceses lacking in priests.
But in the discussion that followed, the Pope told the bishops to care more for the quality of seminary candidates than the quantity. Cardinal Gualtiero Bassetti of Perugia-Citta della Pieve, president of the Italian bishops' conference, confirmed Francis' comments about homosexuality in a May 24 news conference.
The Pope touched on the topic of homosexuality, particularly when it comes to individuals with "deep-seated tendencies" or who practice "homosexual acts," yet who want to enter the seminary.
In these cases, "if you have even the slightest doubt, it's better not to let them enter," Francis said, according to Vatican Insider, because these acts or deep-seated tendencies can lead to scandals and can compromise the life of the seminary, as well as the man himself and his future priesthood.
Pope Francis' comments were made during the opening May 21 session of the 71st general assembly of the Italian bishops' conference.
The Pope's statements on the issue of homosexuality and the seminary reflect the Church's teaching on the topic.
In the 2016 edition of the Congregation for Clergy's ratio on priestly formation, the dicastery had written that, "in relation to people with homosexual tendencies who approach seminaries, or who discover this situation in the course of formation, in coherence with her own magisterium, 'the Church, while profoundly respecting the persons in question, cannot admit to the seminary or to holy orders those who practice homosexuality, present deep-seated homosexual tendencies or support the so-called 'gay culture.'"
And then there's the bold and True teaching of Bishop Morlino of Madison, WI….
In an Aug. 18 pastoral letter, the bishop of Madison also called Catholics to join him in offering acts of reparation for the sins of sexual immorality among Catholic deacons, priests and bishops.
Bishop Robert Morlino
Catholic News Agency
MADISON, Wis. — In response to the sex-abuse crises involving disgraced Archbishop Theodore McCarrick and the release of the Pennsylvania grand jury report, Bishop Robert Morlino of Madison, Wisconsin, has said that the Catholic Church must renew its conviction to identify and reject sin and admit that a homosexual culture among some clerics has caused great harm in the Church.
The bishop also called Catholics to join him in offering acts of reparation for the sins of sexual immorality among Catholic deacons, priests and bishops.
"For too long we have diminished the reality of sin — we have refused to call a sin a sin — and we have excused sin in the name of a mistaken notion of mercy. In our efforts to be open to the world, we have become all too willing to abandon the Way, the Truth and the Life. In order to avoid causing offense, we offer to ourselves and to others niceties and human consolation," wrote Bishop Robert Morlino in a pastoral letter released Aug. 18.
"There must be no room left, no refuge for sin — either within our own lives, or within the lives of our communities. To be a refuge for sinners (which we should be), the Church must be a place where sinners can turn to be reconciled. In this I speak of all sin," he added.
Bishop Morlino said that he had been sickened by reading the stories of sexual abuse contained in a report on clerical sexual abuse released Aug. 14 by a Pennsylvania grand jury and by allegations against former cardinal Theodore McCarrick, who has been accused of serially sexually abusing two teenage boys and of sexually assaulting and coercing priests and seminarians for several decades.
"But my own sickness at the stories is quickly put into perspective when I recall the fact that many individuals have lived through them for years. For them, these are not stories; they are indeed realities. To them I turn and say, again, I am sorry for what you have suffered and what you continue to suffer in your mind and in your heart," he wrote.

The bishop was particularly candid in his assessment of the cause of those problems: "In the specific situations at hand, we are talking about deviant sexual — almost exclusively homosexual — acts by clerics. We're also talking about homosexual propositions and abuses against seminarians and young priests by powerful priests, bishops and cardinals. We are talking about acts and actions which are not only in violation of the sacred promises made by some, in short, sacrilege, but also are in violation of the natural moral law for all. To call it anything else would be deceitful and would only ignore the problem further."
"There has been a great deal of effort to keep separate acts which fall under the category of now-culturally-acceptable acts of homosexuality from the publicly deplorable acts of pedophilia. That is to say, until recently the problems of the Church have been painted purely as problems of pedophilia — this despite clear evidence to the contrary," he added.
"It is time to be honest that the problems are both and they are more. To fall into the trap of parsing problems according to what society might find acceptable or unacceptable is ignoring the fact that the Church has never held any of it to be acceptable — neither the abuse of children, nor any use of one's sexuality outside of the marital relationship, nor the sin of sodomy, nor the entering of clerics into intimate sexual relationships at all, nor the abuse and coercion by those with authority," he wrote.
Bishop Morlino said that McCarrick was guilty of abusing power "for the sake of homosexual gratification."
"It is time to admit that there is a homosexual subculture within the hierarchy of the Catholic Church that is wreaking great devastation in the vineyard of the Lord. The Church's teaching is clear that the homosexual inclination is not in itself sinful, but it is intrinsically disordered in a way that renders any man stably afflicted by it unfit to be a priest," he added.
He wrote to seminarians of his diocese that they should immediately notify him of any sexual abuse, coercion or sexual immorality they might experience or witness in their seminaries.
"I will address it swiftly and vigorously. I will not stand for this in my diocese or anywhere I send men for formation," he wrote, adding that he expects seminaries to address sexual immorality directly.
To the priests of Madison, the bishop explained his expectation that each one "live out your priesthood as a holy priest, a hardworking priest, and a pure and happy priest — as Christ himself is calling you to do. And by extension, live a chaste and celibate life so that you can completely give your life to Christ, the Church and the people whom he has called you to serve. God will give you the graces to do so."
He likewise called priests to notify him of abuse or sexual immorality they might become aware of.
He also wrote to lay Catholics, asking them to bring forward any instance of clerical sexual abuse or immorality they might be aware of. The bishop promised to hold priests and seminarians accountable to chaste standards of behavior and to call for reform in the Church.
The bishop asked lay Catholics to "assist in keeping us accountable to civil authorities, the faithful in the pews, and to God Almighty, not only to protect children and the youth from sexual predators in the Church, but our seminarians, university students and all the faithful, as well. I promise to put any victim and their sufferings before that of the personal and professional reputation of a priest, or any Church employee, guilty of abuse."
The bishop concluded his letter with a call to holiness and prayer.
"More than anything else, we as a Church must cease our acceptance of sin and evil. We must cast out sin from our own lives and run toward holiness. We must refuse to be silent in the face of sin and evil in our families and communities, and we must demand from our pastors — myself included — that they themselves are striving day in and day out for holiness. We must do this always with loving respect for individuals but with a clear understanding that true love can never exist without truth."
"I ask you all to join me and the entire clergy of the Diocese of Madison in making public and private acts of reparation to the Most Sacred Heart of Jesus and to the Immaculate Heart of Mary for all the sins of sexual depravity committed by members of the clergy and episcopacy," he wrote.
He added that he would be offering a public Mass of reparation in the diocese and explained that on Sept. 19, 21 and 22, the traditional "ember days" of the Church, he would be fasting "in reparation for the sins and outrages committed by members of the clergy and episcopacy, and I invite all the faithful to do the same."
He wrote, "Some sins, like some demons, can only be driven out by prayer and fasting."
So, my dear Friends, if you suspect your

parish or chancery priest or bishop is living a double life, simply ask them how they justify a Lavender lifestyle with the teaching of the Holy Catholic Church….