There is no retraction yet by the Diocese of Covington (as of 7:00 a.m. today) of the knee jerk response to Nathan Phillips' street theater performance condemning the Covington High School boys for disrespecting him. When I looked at it yesterday the statement condemning the boys was still up. This morning the site is down. The high school's site is also down.
Interestingly the story continues to grow. (This extensive article,
Lawyer for Covington Catholic Students Threatens Lawsuits unless Media Retract their Stories, i
s excellent!) One mom whose daughter was at the Lincoln Memorial with another group describes how the drum-beating liberal activist first approached her 15-year-old daughter (wearing a pink Trump 2020 hat) but moved on when her frightened and horrified reaction failed to provide the correct atmosphere for his "victim of the racists" scenario.
Adult male terrorizes teenage girl
would not make a particularly sympathetic headline now would it?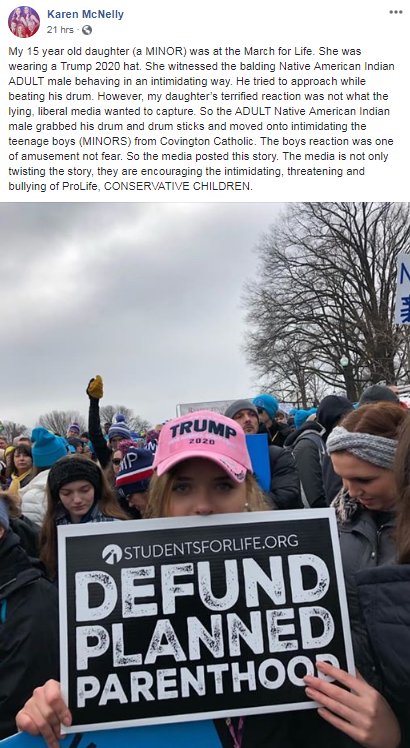 What's happened to the Covington boys, especially Nick Sandmann, is despicable! It's one thing when liberals verbally assault and lie about adults like Clarence Thomas and Brett Kavanaugh. It's wrong, of course, but at least they are picking on people their own size. Going after kids is another thing. Of course, folks
willing
eager to rip up babies in the womb, the most innocent among us, would hardly be squeamish about metaphorically threatening and killing other innocent kids if it works to advance their agenda! Alinsky put it this way. "Rub raw the resentments of the people of the community; fan the latent hostilities of many of the people to the point of overt expression...for unless there is controversy people are not concerned enough to act." (Rules for Radicals by Saul Alinsky)
Controversy? Hostilities? We certainly saw that here didn't we? The kids and their families are getting death threats and the school getting bomb threats.
And then there's this. Did Phillips really serve in Vietnam as a Marine "recon ranger"? There's no such title in the corps. Phillips is 64 years old. The U.S. pulled out of Vietnam in 1973. Let's see...that makes Phillips 18 at the END OF THE WAR. So was there enough time for him to be trained in the Marine corps and shipped over before we pulled out? People are starting to ask questions and several veterans groups are seeking Phillips' service records.
Meanwhile the Diocese and the school authorities have apparently gone into hiding!
Am I surprised? Absolutely not!
Many Catholic bishops have thrown good priests under the bus when it was convenient. In my own diocese, Arlington, Fr. James Haley got the shaft for daring to bring evidence to Bishop Paul Loverde of the homosexuality in the diocese. Our previous bishop, John Keating who had a heart condition, died suddenly in Rome the day after he asked during a meeting with a Vatican congregation what he could do about his "homosexual problem." There were rumors at the time that he'd been murdered. In view of Archbishop Vigano going into hiding, ostensibly in fear of his life...well...it casts Bishop Keating's sudden death and the rumors surrounding it in a new light.
Hopefully this story will have a happy ending although school reopens today with cops on the property because of threats of violence. According to reports, many students will stay home out of fear! (Death threats? From peaceful liberals? Really?) Hey, when people are tweeting about locking all the kids in the school and setting it on fire or bombing the place and all the little "Hitler youth"....well... I can understand parents taking it seriously.
On the bright side, these kids are future leaders. An event like this can be life changing. I was once surrounded at a rescue (I was the media spokesman) by a group of pro-aborts screaming inches from my face to the point I began shaking. I stood quietly (like Nick Sandmann) holding up a model of 12 week baby and said nothing. At the end of the encounter, a woman with the screaming group came up to say she didn't agree with what they did to me and apologized. I told her to get used to it because that's what they do and she had associated herself with it. I always wondered what happened to that woman. Maybe her experience woke her up to the ugly reality of liberalism that hates God and hates the good. We saw that same spirit at the Lincoln Memorial on Friday.
Our Lady of Life, pray for us.